"How can I get rid of Error 9006 or iPhone error 9006?So I was locked out of my pass code and I was trying to restore my iPhone via iTunes and halfway through the process I received an error which says 'There was a problem downloading software for the iPhone. An unknown error occurred (9006) Make sure your networks settings are correct and your network connection is active, or try again.'
I restarted my computer, my Wi-Fi router and retried but the same iTunes error 9006 appears. How can I get rid of this annoying error?"
This iPhone error 9006 or commonly known as iTunes error 9006 happens during downloading, updating, and restoring iPhone devices. It usually happens when the process is interrupted due to many possible reasons.
Anti-Virus Software
Internet connection
Software Failure
Outdated iTunes software
Apple Server busy
And much more…
In this article, we will be tackling about the various ways to get rid of iTunes error 9006 or iPhone error 9006.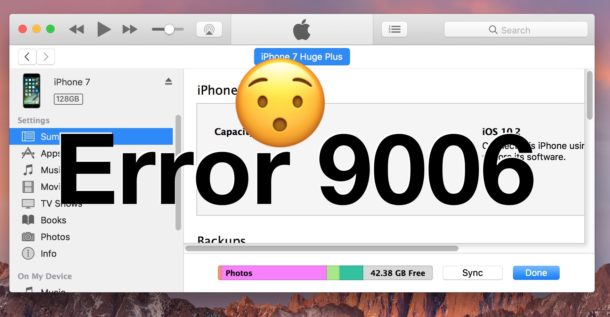 Fix iTunes Error 9006
Part 1. What to do When You See iTunes Error 9006Part 2. Get Rid of iTunes Error 9006 by Using the IPSW FilePart 3. Fix iTunes Error 9006 or iPhone Error 9006 Without Data LossPart 4. Video Guide: How to Fix the iTunes Error 9006 or iPhone Error 9006Part 5. Conclusions
Part 1. What to do When You See iTunes Error 9006
When you are downloading, restoring, and updating your iOS in iTunes, you can sometimes encounter some error codes that may seem so unusual and annoying. These error codes will not allow you to use your phone unless it is fixed.
These errors often mean that your iPhone and iTunes are unable to communicate to Apple's server that may have been caused by different issues. Here are some basic tricks to solve iTunes error 9006:
Update iTunes to the latest version
To update iTunes on Mac: Launch iTunes and then click iTunes. Scroll down and click on Check Updates
To update iTunes on Windows: open iTunes then go to Help tab and scroll down and click Check for Updates
Update Computer Operating System
On Mac: Go to Apple Menu and select Software Update
On Windows: Click Windows icon and select Settings. Click on Update and Security and choose Windows Update
Use Administrator access on computer
If your computer has an Admin permission to install any kinds of software, then log out your current user and sign in with the Admin access.
Set Date and Time zone
Make sure you are using the correct date and time zone settings on your computer as this sometimes affect any installation done by the computer.
Unplug Extra USB
If you are using other USB connectors aside from the one that you are using, unplug them for the meantime to see if the problem is caused by other USB connections.
Try a Different USB Cable
Use another Apple USB cable to see if the issue was caused by a faulty connector only.
Insert on a Different USB Port
Use another port to determine if the issue is also caused by the USB port and not other parts.
Connect Computer Directly to Router
Check to see if the router is blocking the iTunes. If you are using a laptop, use an Ethernet cable and connect the laptop directly to the router.
Try another Wi-Fi Connection
Some internet connection may block the connection between your iTunes and Apple's servers. You can connect to a different Wi-Fi network to check if the issue is really caused by a bad connection.
Turn-Off Anti-Virus and Firewall
Some anti-virus protection software can block the connection as well so for the meantime, you can disable the antivirus protection by going to its own settings or referring to the program's manual. You can also disable all software firewalls temporarily.
Restart all devices
Nothing still beats a good restart. Reboot your phone, computer, and router and give it a quick rest and restart all devices again to retry the process.
You may also contact your internet service provider if necessary. All these quick fixes can be trimmed down to hardware or software issues. This iTunes error 9006 is commonly showing when iTunes think something is blocking its way going to Apple's servers.
Part 2. Get Rid of iTunes Error 9006 by Using the IPSW File
An IPSW File is an Apple Device Update file extension used in iPhone, iPad, Apple TV's, and iPod Touch. It is being used to add latest features and fix any software weaknesses in the device. In order to fix iTunes error 9006, we need to go into this IPSW file and remove the old version and then download and add the new IPSW file in the iPhone to update the device. This process is quite advance so you might need to do this step very carefully or ask an expert to do it for you.Where to find IPSW File?
For Windows 8 & Windows 10:
\Users\USERNAME\AppData\Roaming\Apple Computer\iTunes\
For Mac OS X:
~/Library/iTunes/iPhone Software Updates
Step1. Manually remove the old IPSW file from iTunes
Step2. Download the correct IPSW file for your iPhone model. You can find it here.
Step3. After you have successfully downloaded, connect the iOS device to the computer and launch iTunes.
Step3. On the Summary tab, Choose to Update or Restore iPhone. For Windows: Use Shift+ desired button. For Mac: Alt+ desired button.
Step4. A new window will open and lets you choose the IPSW File that you have downloaded. It will now allow iTunes to Update or Restore your device without the iTunes error 9006 anymore.
You can download the IPSW File directly from Apple and it is located in different locations depending on the computer you are using.
Just a heads-up, this may cause data loss on the iOS device being restored or updated. So better be prepared in case you do this kind of procedure. However, if you are looking for ways to get rid of iTunes error 9006 without any data loss, try using third party recovery programs. This kind of programs allows effective system recovery and restores your iOS device back to its normal state without compromising the data inside the iPhone. FoneDog Toolkit- iOS System Recovery is one of the few recovery programs that stand true to their promises:
Fix iTunes Error codes like 9006, 6, 17, 1004, 3000, and much more
Fix System issues like DFU mode, looping on Start, stuck on Apple logo, Recovery mode, White Screen of Death, Black Screen, Blank Screen, red screen and etc…
Returns freezing iOS device back to normal
No Data loss at all
If you would like to know more about this system recovery software and fix iTunes error 9006, read through the next parts.
Part 3. Fix iTunes Error 9006 or iPhone Error 9006 Without Data Loss
FoneDog Toolkit- iOS System Recovery restores your iPhone back to normal and updates it with the latest iOS version. It was developed with the aim to improve the total mobile experience of all iOS users worldwide without the need to become technical.
It was designed with a click-through interface and straightforward process.FoneDog Toolkit - iOS System Recovery can settle any system issues like freezing, crashing, stuck on Apple logo, looping on start, white screen, red screen, black or blank screen, and others but makes sure that no phone data is being left out or lost.
How to Fix iTunes Error 9006 iPhone 6?
If you are looking to fix iTunes Error 9006 on iPhone 6 or other devices quickly, you can try FoneDog Toolkit- iOS System Recovery and follow these steps:
Download, install and launch FoneDog Toolkit- iOS System Recovery.
Connect the iPhone.
Download Firmware.
Extract and repair.
iTunes error 9006 fixed.
Step 1. Download, Install and Launch FoneDog Toolkit- iOS System Recovery
FoneDog Toolkit- iOS System Recovery is available for both Windows and Mac. First, download the right version for you and follow the installation steps.
Once you have downloaded and installed the software, launch the program and click 'iOS System Recovery' to begin the recovery process.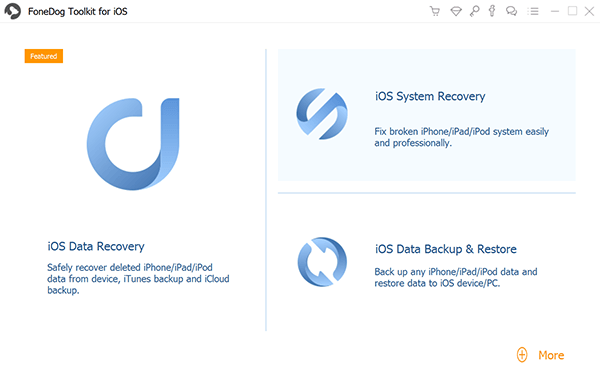 Download and Launch FoneDog Toolkit- iOS System Recovery--Step1
Step 2. Connect the iPhone
Using a USB cable, connect the iPhone to the computer and click 'Start'. This will allow FoneDog Toolkit- iOS System Recovery to run a quick but thorough scan in order to assess the issue of your device.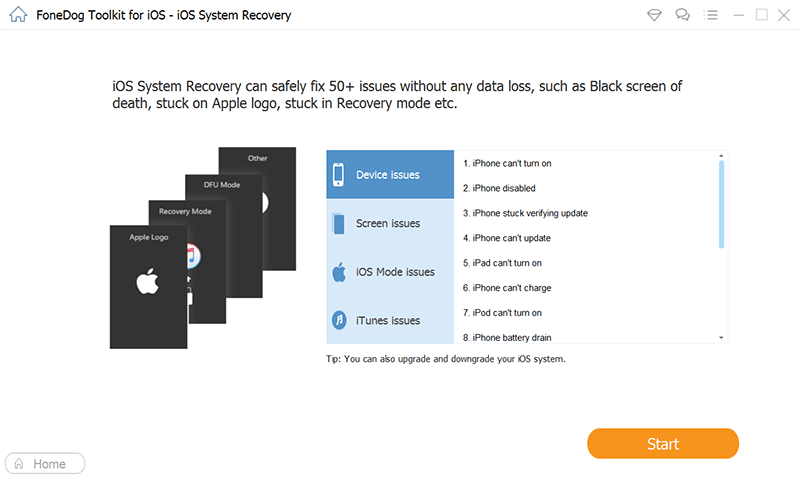 Connect the iPhone--Step2
Step 3. Download Firmware
After the scanning assessment, FoneDog Toolkit- iOS System Recovery will now ask you to download the correct firmware package of your iOS device.
Be ready with the correct make and model and iOS version of the iPhone. You can refer at the back of your iPhone for these details or you can go online on Apple's website to verify your phone's make and model.
Click the 'Repair' button to continue.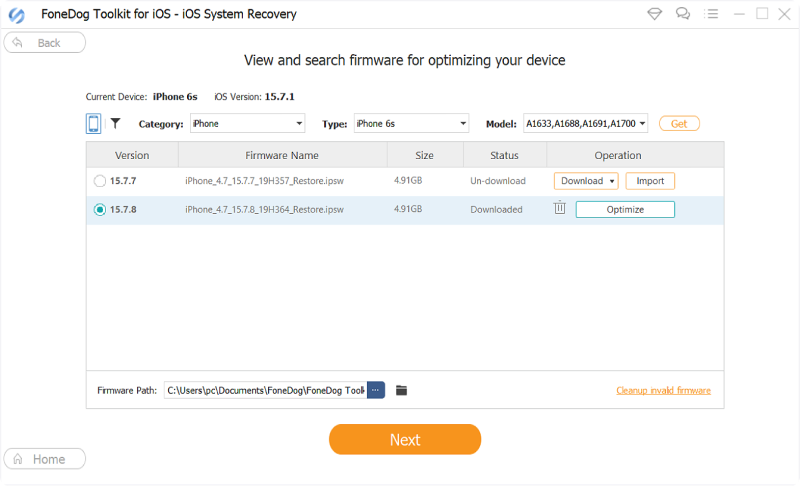 Download Firmware Package--Step3
Step 4. Extract and Repair
FoneDog Toolkit- iOS System Recovery will now extract the firmware package and start repairing the iPhone. This process will take much time so before doing the entire procedure, make sure you have enough battery life to support.
Refrain from moving or disconnecting the USB cable to avoid any interruptions.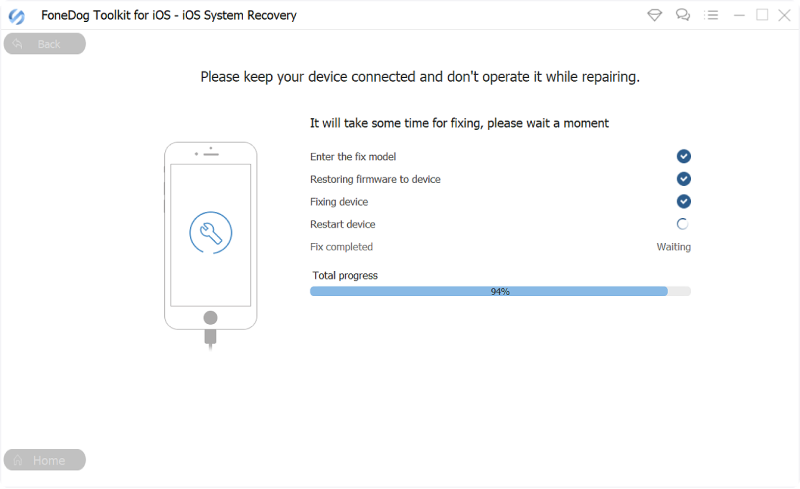 Extract and Repair iTunes Error 9006--Step4
Step 5. iTunes Error 9006 Fixed!
When the extract and repair are finished, your iPhone will reboot back to normal. You will now have a newer and updated iOS version plus iTunes error 9006 was fixed.
If your iPhone did not restart normally, click the retry button to go over the process.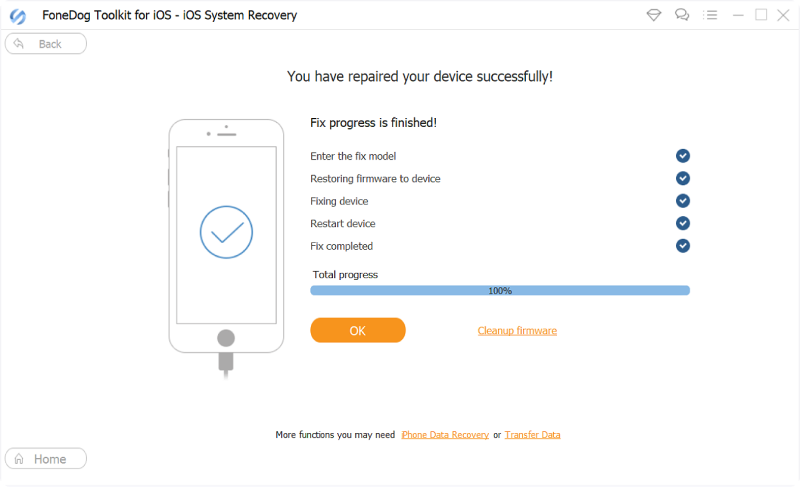 iTunes Error 9006 Fixed--Step5
Part 4. Video Guide: How to Fix the iTunes Error 9006 or iPhone Error 9006
In just five (5) simple and easy steps, you were able to fix iTunes error 9006 effectively. No complicated methods involved aside from using FoneDog Toolkit- iOS System Recovery. This program is all you need to repair your iOS devices like iPhone, iPad, and iPod Touch back to normal.
Part 5. Conclusions
iTunes error 9006 is just another error code that can hinder us from restoring or updating iOS devices in iTunes. These errors are so annoying especially that it stops us from using our devices and can ruin our daily routines.
To resolve this iTunes error 9006 better and faster, we highly recommend FoneDog Toolkit- iOS System Recovery. It fixes the iOS system without compromising any of our phone data. Share this good news with all your iOS user friends.