"I want to upgrade my iPhone6s to iOS 11. But it is failed because of the storage space is not enough. Is there a way to erase my iPhone data selectively? "

Upgrading to the latest iOS 11 features new exciting applications that will be installed to your iOS device and can change how you usually use it. Most iPhone and iPad users today who have already got the iOS 11 have been coining this release as the friendliest iOS version ever – for the reason that it provides many applications which can improve one's mobile usage impacting his or her personal and business activities, as well as be giving a much better operating system and environment for iOS app developers.

But one reason for not being able to upgrade to iOS 11 is something that many users have always neglected – the storage capacity. If you're updating to iOS 11 now and it doesn't proceed smoothly, you might haven't considered your device' storage space – it might be running low and couldn't accommodate the big memory allocation needed for iOS 11. Find out below how you can resolve such issue
Part 1: Reasons for iOS 10 Storage IssuesPart 2: Common Solutions to iOS 10 Storage IssuesPart 3: Fixing iOS 10 Storage Issues through Fonedog Toolkit – iOS System RecoveryPart 4. Video Guide: iOS System RecoveryPart 5: The Conclusion
Part 1: Reasons for iOS 10 Storage Issues
There are a few known reasons why you're having insufficient storage space in your iOS device, and by digging them down, you can determine how to fix the problem without doing some big effort just to free up enough memory space to accommodate the iOS 11. Read through below to find out these reasons.
A. Insufficient Storage Space due to Unused Files and Applications
The most common (and obvious) reason for having insufficient storage space in your iOS device is because you've been keeping a lot of files in it that you don't view or check anymore, as well as unused applications that can bring a heavy toll in your device' storage capacity. Both cases can consume memory space that can be allocated to the iOS 11 version instead.
B. Software-Related Problem
Insufficient storage space due to a software-related issue is very rare to happen, but such cause can make one iOS user to consistently being alerted by his or her device that it's now running low in memory, even if there are only few files and applications in the storage. For this situation, it's possible that the current iOS installed in the device has been miscalculating its storage capacity, and although this one is very uncommon, it can still be a probable cause to consider.
C. Hardware Defect on the Device Storage
Just like a software-related problem, the device storage can also be affected by a hardware defect in the iOS device. If you're aware of how much the storage space of your device is but it doesn't accept more files and applications installed via the App Store or through iTunes using a desktop computer or laptop, chances are a hardware glitch is affecting the process.
People Also ReadHow to Recover Lost Photos after iOS 11 Update3 Effective Ways to Recover Lost Files on iPhone after iOS 11 update
Part 2: Common Solutions to iOS 10 Storage Issues
For most users, giving more storage space to accommodate the iOS 11 installation can be done by performing some manual deletions of files and applications that aren't being used or utilized anymore. However, if you're suspecting that a software or hardware-related problem is the cause of the issue, it may take more than the just manual deletion in order to fix the issue. Follow through with our common solutions below to fix it.
A. Perform Manual Deletion to Fix iOS 10 Storage Issues
In iOS, doing a bulk deletion of files is quite easy, but for uninstalling applications, it usually takes some time to remove those that aren't being used anymore. To delete some unused files from your iOS device here's how
Go to the application where the files to be deleted are stored based on their categories (Photos, Notes, Bookmarks, etc).
Tap the Select option.
Select each file to be deleted.
Tap the Delete icon represented by a trash bin icon.
Confirm deletion of files.
B. Delete all Unused Files Permanently to Fix iOS 10 Storage Issues
When deleting files such as photos and videos, they are just being tagged as "deleted" in the system but they're not being totally removed from the iOS device. All deleted files are placed in the Recently Deleted folder on the applicable app. This one stores all your recently deleted files that still consumes storage space. Here's how you can permanently delete the files you've previously selected for deletion:
Go back to the application that has contained the files you've previously deleted.
Proceed to its Recently Deleted folder.
Tap the Select option.
Select all files to be deleted.
Tap Delete option and confirm if to proceed with the deletion.
C. Clear Cached Files from Previously Used Applications
If you love streaming videos online, chances are you've been downloading a lot of cached data for each online video you've streamed. This will be stored in your iOS device over time. It's also the same case when you used an application that heavily relies on the Internet, such as the Safari app and another third-party browser. Such cached files must be deleted, and here are the steps you can do on them:
For clearing cached files from Safari, go to Settings > Safari and locate the Clear History and Website Data.
For other browsers installed on your device, as well as other apps with specific documents and data to be deleted, go to Settings > General > Storage & iCloud Usage.
Tap the Manage Storage option to review the apps that consume a lot of storage space.
Each app has an entry for Documents and Data that will show you how much it has consumed memory to keep such amount of data.
From here, you have the option to remove the app to free up the storage space it consumes and then reinstalling it whenever it's needed again.
Part 3: Fixing iOS 10 Storage Issues through Fonedog Toolkit – iOS System Recovery
In the event that the cause of the insufficient storage capacity issue is due to a software or hardware-related problem, this is the only time you'll need to use our FoneDog toolkit -iOS System Recovery. It's a tool packed with modules that can cater to specific needs of iOS and Android users, including system repair and bulk deletion of files and applications. To use our FoneDog toolkit in resolving the issue, follow the instructions below:
Step 1: Download and Install Our FoneDog Toolkit.
You can download the installer of the FoneDog toolkit from our website. Get a copy and install it on your desktop computer or laptop.
Step 2: Connect the iOS Device to the Computer.
After installing the application, connect the affected iOS device to the computer and have our FoneDog toolkit to verify it. Ensure that the program can recognize your device.
Step 3: Proceed to the "System Recovery" Module.
The module that you'll need to repair your device' current iOS system is the System Recovery. This one is represented by a gear icon menu with a wrench tool inside of it. Click this menu tile to proceed inside the module.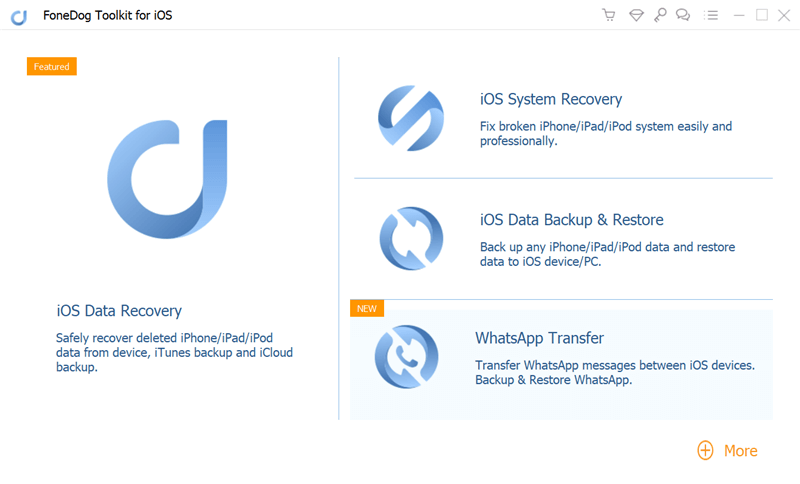 Step 4: Take Note of Important Reminders for System Recovery.
Below are some important reminders you'll need to take note first before proceeding to the system recovery procedure:

1) All the files and data in your iOS device won't get deleted; however, it's best to create a backup of your device first before using our fonedog toolkit.
2) Your iOS device will be set to "locked" if it's currently unlocked.
3) Your iOS device will be set to "non-jailbroken" status if it's currently jailbroken.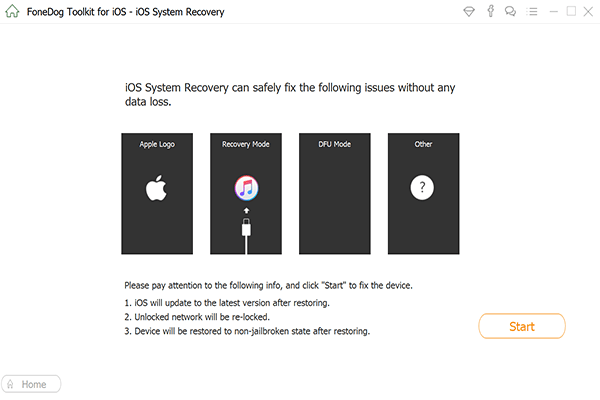 Step 5: Check Your iOS Device' Technical Specs
The next page of the System Recovery module shows you some drop-down fields with predefined values – these are the technical specs of your iOS device, which our FoneDog toolkit has detected through successfully performing.It will use such specs to retrieve the most suitable firmware package to be installed to your iOS device. Review these specs and click Download to proceed.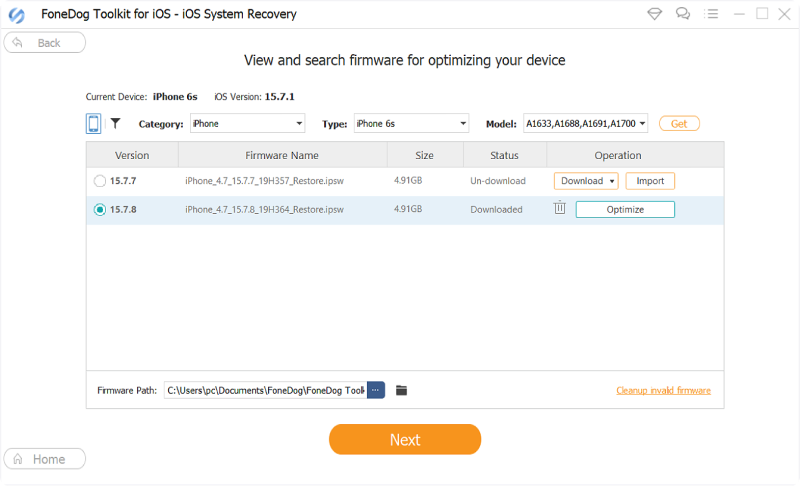 Step 6: Download the Firmware Package.
Proceed in getting the firmware by clicking the Download button. This will require you to wait for a couple of minutes until the firmware has been downloaded.

Alternatively, you can download the firmware on your own and have it used by our FoneDog toolkit by clicking the Copy button to retrieve it, followed by the Select button to command the program to use that firmware package for the system repair.
Step 7: Perform System Recovery Procedure.
This step will be done automatically by our FoneDog toolkit – you'll just have to wait for a few minutes until it gets done. This step will apply the downloaded firmware package to your iOS device, in order to fix the software or hardware bug that's affecting how your device is calculating its current storage capacity. After the system recovery, your device will automatically reboot.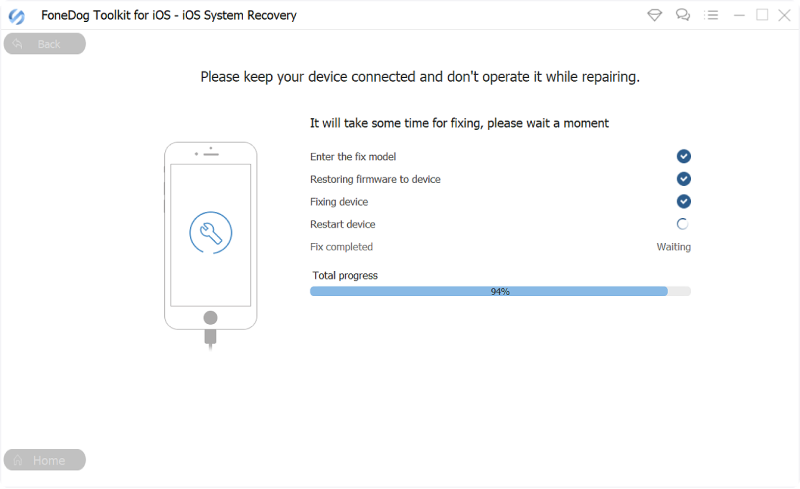 Step 8. Verify If Your iOS Device is Now Reading Its Storage Capacity Correctly
After your iOS device has restarted, check for its current storage capacity reading if it's now correct. Go to Settings > General > About and see your current storage capacity under Available option. If you think you have now enough storage space for the iOS 11, proceed in installing it to your device through over-the-air approach or via iTunes.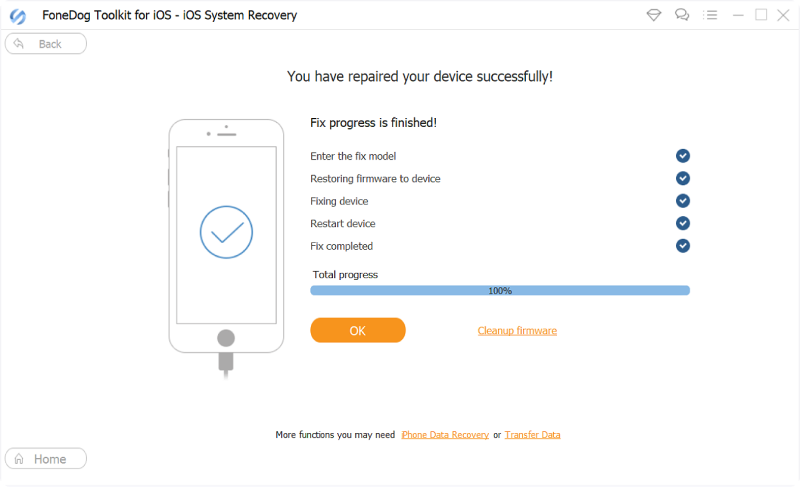 Part 4. Video Guide: iOS System Recovery
Part 5: The Conclusion
Resolving the issue with insufficient storage space in iOS devices usually just take easy steps to get fixed – just manually delete old files and unused applications and you're now good to go in getting the iOS 10 release. However, there can be instances that a software or hardware glitch can hinder you from upgrading to the latest iOS version. This is when you'll need the FoneDog toolkit – iOS System Recovery. And for performing the easy and fast bulk deletion, the FoneDog toolkit – iOS Data Eraser is your best choice to use.