"My iPod is handy when it comes to playing my favorite songs. I want to listen to them even when working. I wonder how I can transfer iPod Music to Mac so I can listen any time."
You know someone is a hardcore music lover when they carry an iPod anywhere. Music has a special part in our lives and it does change or set the mood to get through a rough week. Over time, we have created the playlists that we play on and on.
These songs can be played on your iPod, iPhone, and even Mac. But if you wanted to share your favorite beats across your iOS devices, then perfect! You can share playlists from your iPod to another device like Mac.
Let this article be your guide on how to transfer iPod Music to Mac in 5 different ways.
Part 1. Transfer Music from iPod to Mac without iTunesPart 2. How to Transfer Music from iPod to Mac via iCloud Music LibraryPart 3. Transfer Music from iPod to Mac with iTunesPart 4. How to Transfer Music from iPod to Mac by AirDropPart 5. How to Transfer Songs from iPod to Mac with Finder
Part 1. Transfer Music from iPod to Mac without iTunes
Newer macOS does not recognize iPod as a storage device so you might have a hard time transferring your iPod music to Mac. The latest macOS Catalina does not have iTunes so your iPod does not even show up on Finder as a storage device.
This can be confusing if you have been using iTunes for content management. Luckily, you still have other means to move your playlists from the iPod.
If you own a recently upgraded Mac, then your next option to transfer iPod music to Mac is by using third-party applications.
FoneDog Phone Transfer provides a seamless transfer from your iPod down to Mac without the need for your iPod to be recognized as a storage device. It automatically detects the music player and lets you do content management.
Phone Transfer Transfer files among iOS, Android and Windows PC. Transfer and backup text messages, contacts, photos, video, music on computer easily. Fully compatible with the latest iOS and Android. Free Download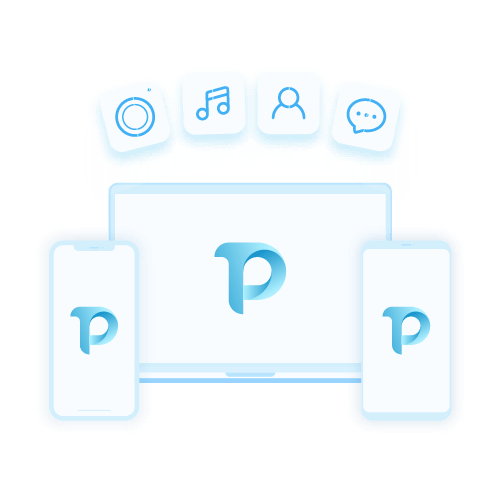 Here is how you can use FoneDog Phone Transfer to get the groove on your Mac:
Install FoneDog Phone Transfer on your Mac computer
Plug the iPod into the computer with a USB cable
Launch the software and click Music from the left side menu
Choose the songs or playlists you want to transfer
Click the computer icon at the top
Create a folder destination and wait until the transfer is complete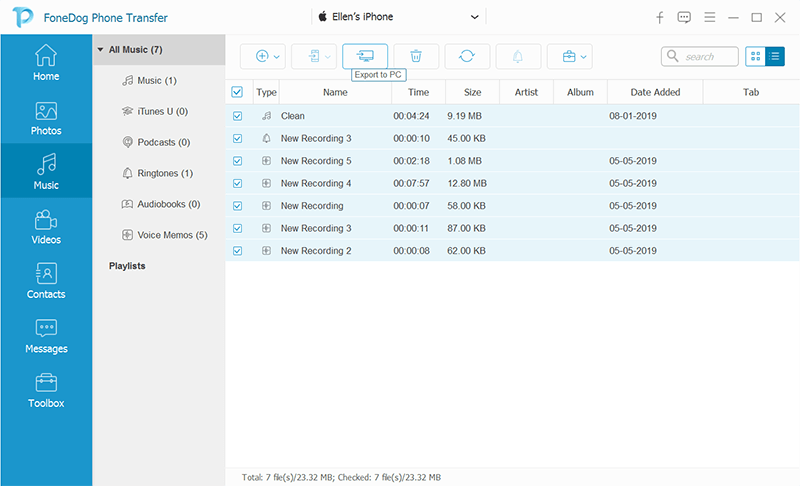 Apart from music, you can also utilize this software to transfer other files including photos, videos, contacts, and many more. What's even greater is that FoneDog Phone Transfer is able to transfer files across different operating systems. That means it can help you transfer music from Windows or Mac computer to iPhone, or from Android to iOS, and so on.
Part 2. How to Transfer Music from iPod to Mac via iCloud Music Library
The iCloud Music Library is another way to transfer iPod music to Mac if you are an Apple Music subscriber. By paying $9.99 monthly, you will be able to download songs, playlists, albums, and video content from the ‌Apple Music‌ catalog to your own music library.
You can enjoy seamless music streaming across devices once you turn on the iCloud Music Library. It only needs one Apple ID to sign in on iDevices. This feature, however, is only feasible if you are subscribed to Apple Music.
Follow the steps below on how to transfer your iPod Music to your Mac via the iCloud Music Library:
Go to your iPod's Settings
Find and Tap Music under the apps list
Scroll down to iCloud Music Library and slide the bar to green
On your Mac, open iTunes and check for the latest version. If it has a new version, download and installs it on your computer. Launch iTunes right after the update.
Click on Preferences and open the General Tab
Under your Library name, check the box beside iCloud Music Library
Select OK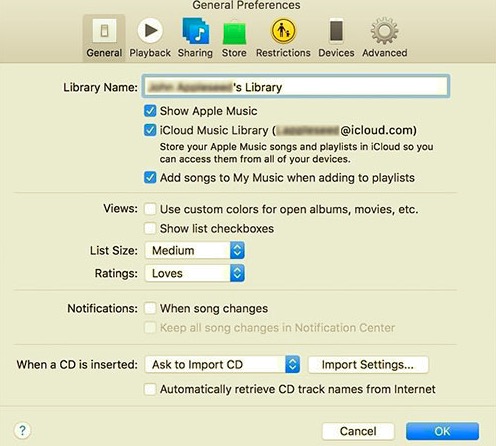 All your playlists and songs from the iPod will be synced automatically with your Mac.
Part 3. Transfer Music from iPod to Mac with iTunes
Old school methods never grow old, or so they say and iTunes is here to prove that. iTunes has played a huge part in data migration since I knew about Apple.
Today, iTunes is still going strong and has been competitive with offering its latest updates. If you own a Mac with iTunes, then for sure, you know the drill.
Here's a refresher on how you can transfer iPod music to Mac using iTunes:
Launch iTunes on your Mac and check for the latest update. Follow the onscreen steps to install the latest version
Connect your iPod to the computer with a USB cable
On your iTunes, go to File
Point your cursor to Devices and click "Transfer Purchases from iPod"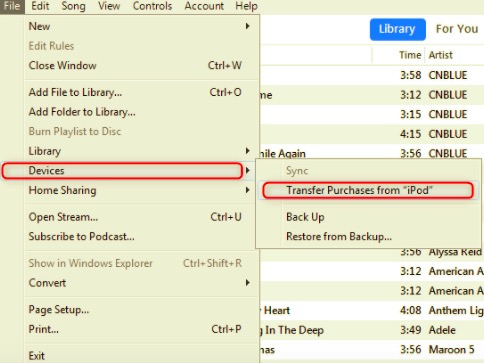 Your purchased songs will be merged automatically from your iPod to iTunes. If you encounter errors during the transfer such as iPod not syncing with iTunes, you can look through these possible causes:
Check if the iCloud Music Library is turned on
Outdated iTunes version
A broken or damaged USB cable port
If first time connecting the iPod to Mac, then make sure that you have clicked or tapped "Trust" on both devices.
Part 4. How to Transfer iPod Music to Mac by AirDrop
You might wonder how do I transfer music from iPod to Mac without software? Then Airdrop is a good choice. Airdrop is the easiest way when transferring just a few beats from iPod to Mac. You don't have to do a lot of stuff on both devices. This option is available on iDevices running on iOS 7 or later and OS X Yosemite on Mac.
Now apart from the software version, you should also consider the range of both devices. They should at least be near each other to be able to use Airdrop. Another thing is that they should be connected to the same network. (This may not be true to all instances but better be sure)
Follow these steps to airdrop some songs:
Turn on Airdrop on both devices. On your iPod, you can quickly turn it on from the control center. On your Mac, open Finder and choose Go, select Airdrop from the drop menu, and wait for the connection.
Open your Music app on the iPod
Go to the specific song you want to Airdrop
Tap the Share icon and select Airdrop
Choose the Airdrop recipient which is your Mac
Go to your Mac and "Accept" the transfer. Set a destination folder for all your newly transferred music.
Repeat the process until you have transferred all the songs you wanted
Although Airdrop is quick and easy, there are still a few limitations that you should consider.
Part 5. How to Transfer Songs from iPod to Mac with Finder
Lastly, you can transfer iPod music to Mac with Finder. Finder is the latest content management of macOS that lets you organize everything from docs to photos, and down to the music.
It's basically the one-stop place on your Mac in case you are searching for something. In case your iPod is not recognized in Finder, you can connect your iPod to Mac and go to your Mac's Preferences, click Sidebar at the top. Confirm if the "CDs, DVDs, and iOS Devices" box is checked.
Go to System Information from the Apple menu, open the list and select USB. Verify if your iPod is listed on the USB Device Tree.
Once good to go, check out these steps on how to use Finder to transfer music from the iPod:
Connect the iPod to Mac via USB cable
Open Finder and click on your iPod
Go to Music and select the songs you want to sync
Click Apply. If the sync does not start automatically, click the Sync button

People Also Read3 Ways on How to Transfer Music from iPhone to ComputerHow to Transfer Music from iTunes to iPhone
Based on the options above, you can easily transfer iPod music to Mac even if you don't have any technical experience. Simply choose the method that seems easiest to you and follow the instructions.
FoneDog Phone Transfer is perhaps the easiest, safest, and flexible when it comes to transferring files in between devices such as your iPod and Smartphone. All you need is to download and install the software on your computer. It does a lot more than you expect!