Every one of us has tried to migrate our photos into the smartphone that we mainly use. For Android users, it may not be as hard as it seems, but it's a completely different thing when it comes to iPhone users.
No matter how updated your iPhone devices are, it doesn't change the fact that they have their own world, so transferring files to other brands can be difficult. This article will show you how to transfer photos to iPhone easily. Let's start with the first entry and perhaps the most effective method there is.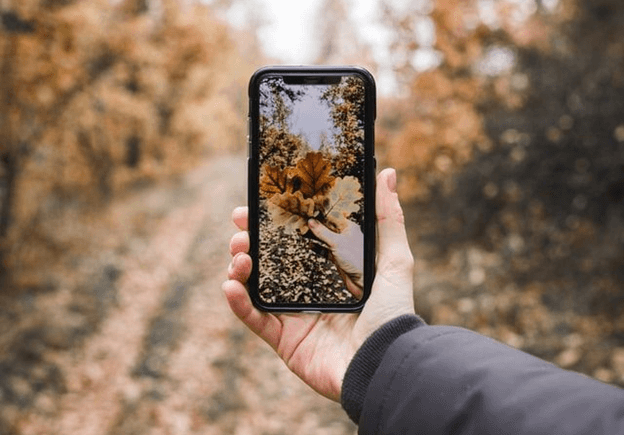 Part 1. Transfer Photos to iPhone from A DevicePart 2. Transfer Photos to iPhone from MacPart 3. Transfer Photos to iPhone from WindowsPart 4. Transfer Photos to iPhone from Android
Part 1. Transfer Photos to iPhone from A Device
There are ways to transfer photos to iPhonefrom Windows, Mac, and even Android. However, there are only a few methods that allow you to do it regardless of the device. Most of the time, it will require special software to make this possible, and that's precisely what we will be using.
FoneDog Phone Transfer is a specialized software developed by the FoneDog group. It only has one purpose, and that is to transfer files from one device to another.
It specializes in transferring photos. Additionally, it can be used in Windows, Mac, and can even transfer files from Android to iPhone. Thus, it is the best tool for the job. Here are the steps that you'd need to follow:
Phone Transfer Transfer files among iOS, Android and Windows PC. Transfer and backup text messages, contacts, photos, video, music on computer easily. Fully compatible with iOS 13 and Android 9.0. Free Download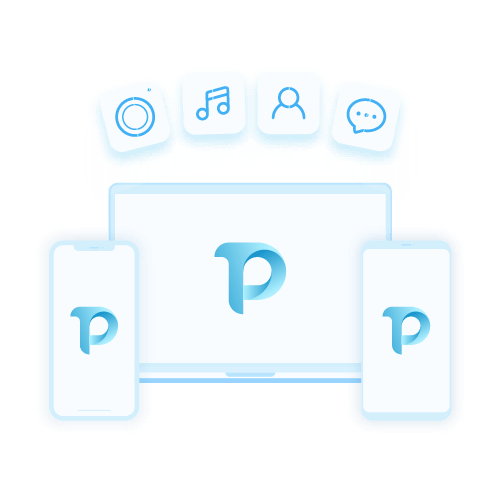 Step 1. Connect Your iPhone to the Computer
Connect your iPhone to the computer using a compatible USB cable, preferably the one that was given along with the phone. Make sure FoneDog Phone Transfer is already open before you do this. Then, at the top of the window, make sure your computer is the one selected and not the recently-connected iPhone.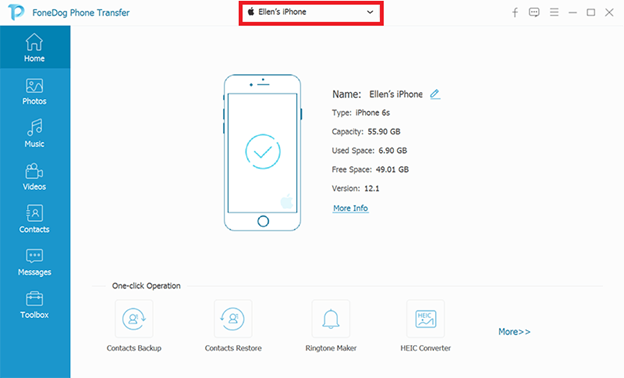 Step 2. Choose File Type
On the left side of the window, there will be a list of file types. Since our goal is to transfer photos to iPhone, select Photos. This will prompt the software to scan for files belonging to the Photos category. It may take a minute or so to finish scanning.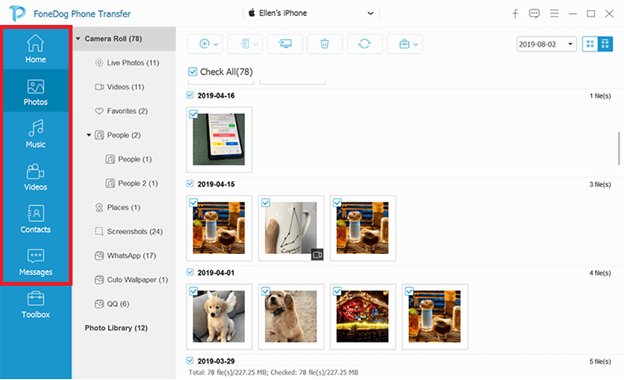 Step 3. Transfer Photos to iPhone
Now you will get a list of items on the right side of the window. These are files that can be transferred. Simply select the files you want to transfer by clicking on their corresponding boxes. Once you're done selecting, click on the second to the right button at the topmost area of the window to import all the selected files into your iPhone.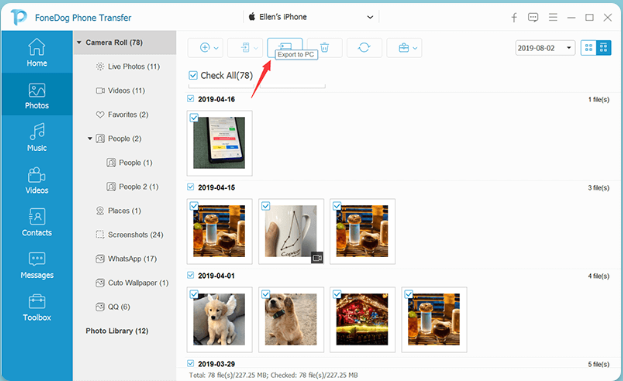 At this point, you only have to wait until the transfer finishes. That's how simple file transfer is when it comes to using a third-party tool. Unfortunately, it can be risky, especially if the tool isn't well-received by others. So to compensate for that, I will introduce another method that doesn't use any third-party tool.
Part 2. Transfer Photos to iPhone from Mac
Perhaps you've heard of AirDrop at least once. It may sound confusing to others, so just think of it as the Apple counterpart of Bluetooth. It's a method that makes use of a built-in function of the operating system to share files from one device to another.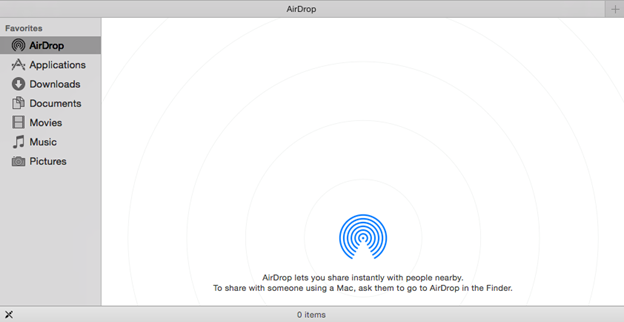 It can be considered the most suitable method for Mac users for many reasons. One, it is a built-in function in Mac as well as in iPhone. Two, it supports sharing of photos regardless of size. There are many more, but let's not take too long and discuss the steps immediately.
What Do You Need to Do Before?
Make sure your Mac and iPhone are able to send and receive AirDrop requests. Since it can be disabled by mistake, here's how you can enable them again:
Launch a session of Finder, then from the menu bar, click on Go > AirDrop, click on the Allow me to be discovered by the option, then set it to Everyone. Next, go to the Apple menu > System Preferences > Security & Privacy. Enter the firewall by logging in with your admin password, then disable the Block all incoming connections option.
Go to the Control Center, tap and hold the Wi-Fi button, then tap on AirDrop. Now there will be multiple options. I suggest selecting Everyone so you can receive files easily.
How to Transfer Photos to iPhone?
Once you've prepared the AirDrop on both iPhone and Mac, you will be able to transfer photos to the iPhone. Follow these steps if you are ready:
On your Mac, locate the photos that you want to transfer.
Right-click on the photo/s then click Share.
Select AirDrop from the resulting menu.
A popup window will appear. Choose the recipient that you'd like to send the file to, which should be the name of your iPhone.
AirDrop will start to share the selected photos with the selected recipient. It may take a while, but it will work smoothly unless there are some mishaps that might be present.
What Should I Do If It Didn't Work?
Sometimes, AirDrop will malfunction either through the Mac or your iPhone. As such, we recommend that you take note of these things if AirDrop didn't work at first:
The sender and the recipient devices should be less than 9 meters away from each other with their AirDrop turned on.
The personal hotspot of the iPhone is turned off
Your Mac is using OS X Yosemite or later versions
Your iPhone is using iOS 7 or later versions
With this, you should be able to do anything you want to do with AirDrop, be it sending files, receiving files, or both ways. Unfortunately, AirDrop may not be the best idea for your iPhone or Mac is outdated even for a bit.
Part 3. Transfer Photos to iPhone from Windows
While iCloud was originally a product of Apple, they made it so that even Windows PC users can enjoy its benefits. As such, for us to transfer photos to the iPhone from Windows, we will be using iCloud.
Surely many of us already heard of iCloud, the cloud storage made especially for iOS devices. It's basically the same as Google Drive in the way that it stores files and makes them accessible to users across most platforms.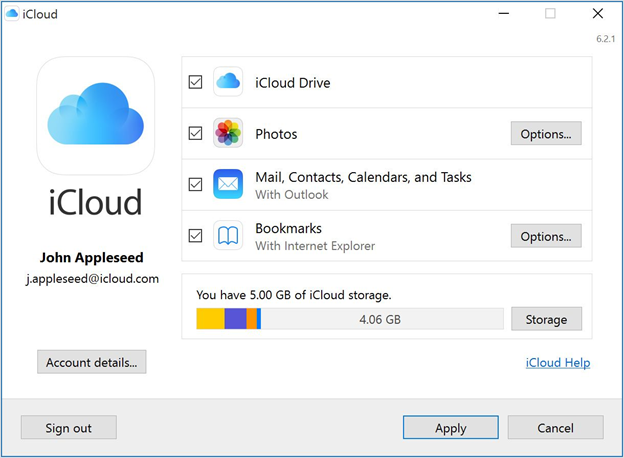 As luck would have it, iCloud can also be used to transfer files from your iOS device into Windows, and vice versa. With that said, let's begin by checking out how to set it up.
What Do You Need to Do Before?
Not all Windows PC users can use iCloud, especially if your ultimate goal is to transfer photos to an iPhone. Here's a look at some of the things that you should do before you even try to transfer your photos using iCloud:
Ensure that your Windows PC is of the latest version (Windows 10)
Prepare an Apple account including the Apple ID and password.
Sign in to your Apple account on your iPhone through Settings > Sign in.
Download and install iCloud for Windows 10 then restart your PC afterward
How to Transfer Photos to iPhone?
So are you all set up and ready to transfer photos to your iPhonefrom your Windows PC? If so, follow these steps carefully and make sure you stick to them to avoid unnecessary mistakes:
Launch the iCloud app on your Windows.
Sign in to iCloud using the account that you are currently logged in on your iPhone.
A popup window will appear with a list of data. Make sure iCloud Drive is checked and don't worry about Photos since we won't be using that for this method.
Click Apply.
Once you turn on iCloud Drive, iCloud will automatically create a folder for iCloud Drive on your File Explorer. Any file that you store here will be accessible by users that have access to the same iCloud account. With that said, perhaps you already know what to do:
Locate the photos that you would like to transfer.
Once you've located the necessary photos, drag them and drop them into the iCloud Drive folder on File Explorer.
Now go to your iPhone then check out your iCloud account. You should now be able to see the photos that you have recently added.
Simply select a photo then download them.
With iCloud, you will be able to synchronize your photos from one place to another. The advantage of this is that you don't need to regularly connect the two devices with each other. You only have to do it once and every file you send to the iCloud Drive folder will be easily accessible.
What Should I Do If It Didn't Work?
Unfortunately, it may not go smoothly the first time you do it. And for that reason, I suggest you make sure you follow these tips:
Sign out of your iCloud account of PC, uninstall iCloud, then install it again
Check for updates on your iCloud using the Apple Software Updated, a component that comes along with iCloud. The update will automatically be initiated once it is detected.
Once you adhere to these tips, you should be able to solve most issues in iCloud, including its malfunction when trying to transfer files. Again, the downside of this is that it is exclusive to Windows 10. Now, what if you want to transfer photos to your iPhone from your Android?
Part 4. Transfer Photos to iPhone from Android
Now we've come to the point where we will be trying to transfer photos to iPhone from Android devices. Just like the previous methods, we will also be using a tool, particularly an application called Move to iOS.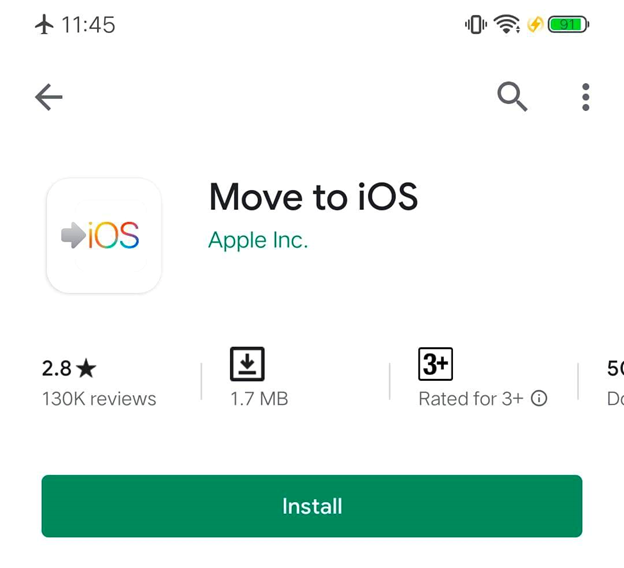 As the name suggests, Move to iOS is an app that allows users to move their files into iOS. Of course, it is available on Android devices for free from Google Play. It is the app that experts usually use when they plan on migrating their data from Android to iOS.If you want to transfer Android data to iPhone without using Move to iOS, you can use FoneDog Phone Transfer to finish.
What Do You Need to Do Before?
Although the app is pretty much all set up once you install it on your Android, there are a few things that you'd have to make sure of first. Here's a look at some of the things that should be included on your checklist:
Make sure the Wi-Fi of the Android device (sender) is turned on
The two devices (Android and iPhone) should have enough battery to last for some time since the transfer may take a while
Check if your iPhone has enough space for the photos coming from the Android device
The Photos app of the iPhone device should be up-to-date. The same goes for the Android device
Once you've checked all these four entries, you are now ready to transfer photos to your iPhoneusing the magical app that is Move to iOS.
How to Transfer Photos to iPhone?
The steps for transferring files using the Move to iOS app are pretty technical. That being said, you have to make sure you follow these steps carefully since one mistake may lead to a disaster:
While setting up your iPhone, there will be options for migrating data on the Apps & Data screen, from which you should choose Move Data from Android.
Open the Move to iOS app on your Android device.
Tap on the Next button from the Find Your Code
Wait for a six-digit code to be generated from your iPhone screen.
Enter the six-digit code into the Move to iOS app on your Android device.
Wait for your Android device to process the cod.
Select the files that you'd like to transfer to your iPhone. The list will include message history, videos, bookmarks, etc. Simply select the camera photos and other file types that you'd think would include the photos you want to transfer.
Finish setting up your iOS device.
This should be enough to get you by when trying to transfer photos to an iPhone. Now as you can see, it's not only capable of transferring photos, but it may also include other file types. However, as great as the app is, there are some things that might not work.
What Should I Do If It Didn't Work?
Usually, people don't encounter any issues when using the Move to iOS app. But as they say, there is a first time for everything, and that also applies to problems. If you did face the unpredictable, here are some of the things you can do to remedy it:
The next time you transfer files using the Move to iOS app, make sure you don't do anything to both devices and both are onscreen the whole process
Turn off any apps or functions that might interfere with your Wi-Fi connection
Turn off the cellular data connection on both of your devices
Forget all the networks that you've connected to in the past from the Wi-Fi in Settings
Restart both the Android and iPhone device and try again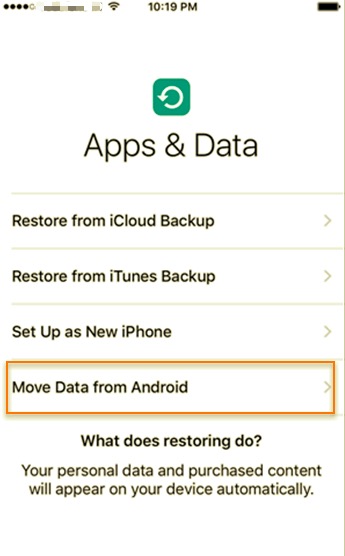 People Also ReadHow to Transfer MP3 to iPhoneHow to Transfer Files from PC to Samsung Tablet
This article is talking about transfer photos to iPhone from other devices, here has an opposite example talking about transfer photos from iPhones to other devices, likes PC. It is difficult to transfer your files from Android to Android or from iPhone to iPhone, but what's more difficult is to transfer photos to iPhone from other devices. Fortunately, there are remedies for this that are available to users for free.
While that being said, you should still be careful what you use. After all, some apps or tools can bring great risk to their users. Either way, this should be enough to assist you in migrating your data to your iPhone.