"How do I retrieve contacts from Samsung with broken screen? My Samsung Galaxy phone screen cracked and I totally cannot use my phone due to the broken screen. I am trying to recover all the data I can get from the damaged phone so I can easily use them once I get a replacement."
In this article, we will learn how to deal with cracked screen phones and how to retrieve contacts from Samsung Galaxy with broken screen using effective software and other possible ways to get back data.
This software - FoneDog Broken Android Data Extraction is able to help you extract your data and files no matter if it is damaged by a virus attack, black screen, password forgot, broken screen, system crash, phone frozen, and more reasons. You get to preview them before performing the recovery. Download the powerful software for free below to have a try:
This article also provides some other effective solutions for you, read forward to find your best solution.
TIPS:
Part 1. How to Retrieve Contacts from Samsung With Broken Screen QuicklyPart 2. How to Recover Contacts from Samsung Galaxy Using Google AccountPart 3. What to Do with A Cracked Samsung Phone? - Regular SolutionsPart 4. How to Avoid Broken Screen on Samsung Galaxy DevicesVideo Guide: How to Retrieve Contacts from Samsung Galaxy With Broken Screens
Part 1. How to Retrieve Contacts from Samsung With Broken Screen Quickly
There are many recovery programs available online that covers data extraction from broken or damaged devices. One of the most effective and highly recommended third-party software is FoneDog Toolkit- Broken Android Data Extraction.
This software has the highest retrieval rate in the industry that can recover contacts from Samsung Galaxy with broken screen devices. Apart from contacts, it can also recover Whatsapp messages, photos, videos, and more.
FoneDog Toolkit- Broken Android Data Extraction can also recover files even when you have forgotten the phone password. It is also compatible with Samsung Galaxy devices. Detailed model information please refer here.
FoneDog Toolkit- Broken Android Data Extraction has a free trial version if you want to test and see if the files are still recoverable. You can download it on the computer and if you want to learn how to use FoneDog Toolkit- Broken Android Data Extraction, then check out the steps below:
Step 1. Launch FoneDog Toolkit and Connect Samsung Galaxy Phone
On the computer launch the program and then choose Broken Android Data Extraction and connect the Samsung Galaxy device using a USB cable. You can recover data from your broken screen Android without USB debugging with this feature.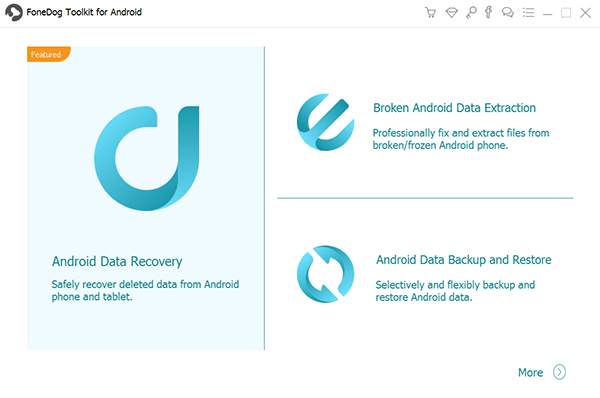 Launch Fonedog Toolkit--Step1
Step 2. Choose Data Extraction Issue
You are required to choose the corresponding issue that is being experienced by the phone. The options can be "Touch doesn't work/ cannot access the phone" or "Black/ blank screen". Since the screen is cracked, you can choose the last option and click "Start" to begin the data extraction.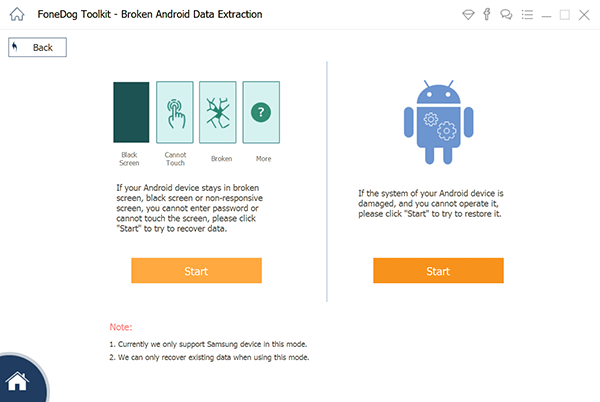 Choose Data Extraction Issue--Step2
Step 3. Enter the Samsung Make and Model
Next is to provide the program the exact make and model series of the Samsung phone. You can refer at the back of the device or go to Samsung's website for the correct information. This process will prompt the program on which software package is compatible with your device to download and use.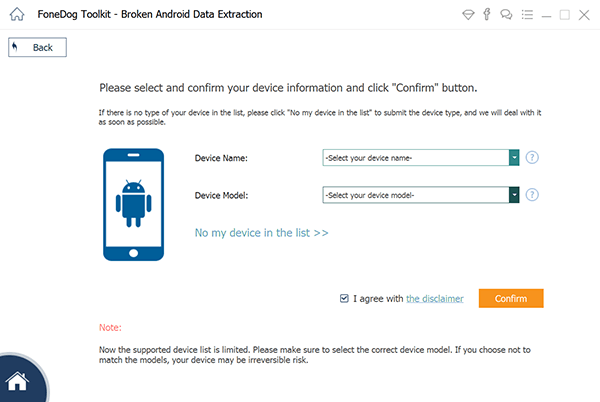 Enter Make and Model--Step3
Step 4. Go into Download Mode
Samsung devices have download mode, it is a state wherein you are able to flash the ROM or update the software. Most Android devices have included Download Mode feature. To enter download mode, you need to follow the steps below:
Turn off the phone
Press the following buttons together: Volume Down+ Home+ Power
Enter into Download Mode using the Volume Up button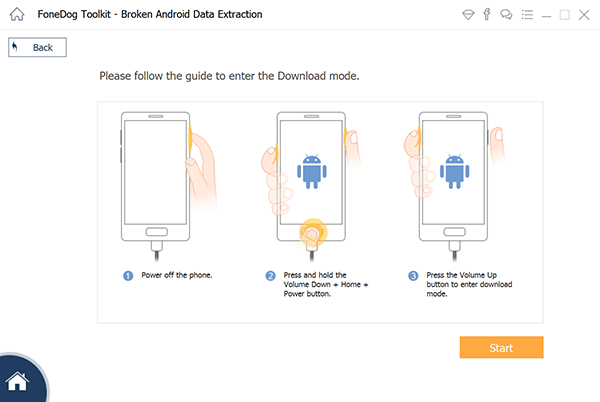 Go into Download Mode--Step4
Step 5. Download and Extract Recovery Package
After getting into download mode, the program FoneDog Toolkit- Broken Android Data Extraction will now download and extract the correct recovery package.
This process may take a while but the progress bar is also displayed onscreen.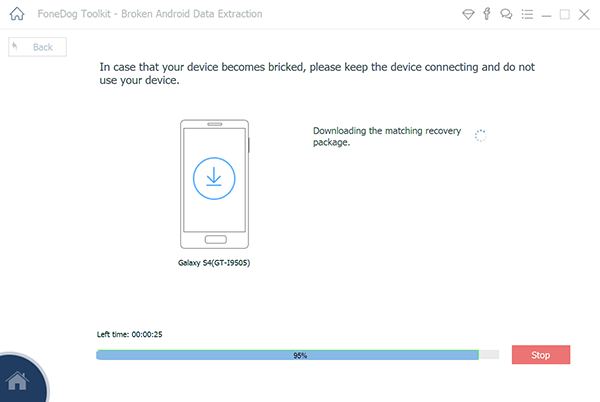 Download Recovery Package--Step5
Step 6. Extract, Download, Scan, and Recover Contacts
FoneDog Toolkit- Broken Android Data Extraction will begin to download, scan, and extract all the existing files inside the broken Samsung Galaxy.
When the entire contents are already extracted, you can now go to the Contacts category and preview all the contact lists on the right screen size.
When you have found all the important contacts, mark them all or individually and click the "Recover" button at the end of the screen.
You can create a folder on the computer to save all the recovered files so it will be easier for you to transfer them to the new phone later on.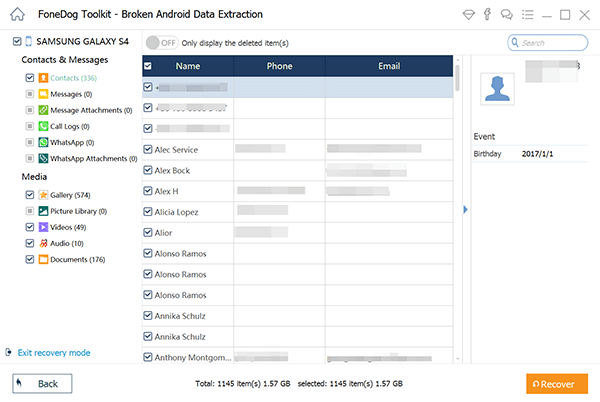 That's how easy to retrieve contacts from Samsung with broken screen device. In just 6 easy steps you now have all the information you need to transfer to your new device later on.
Part 2. How to Recover Contacts from Samsung Galaxy Using Google Account
Another method to retrieve contacts from Samsung with broken screen is via Gmail. You can also recover your data from broken screen S8 or other Samsung phones. If you have synced your contacts previously to Google then you don't have to worry about getting the contacts onto the new phone. To check if the contacts were successfully backed up to Google, you need to do the following:
How to Restore Contacts from Google Account
1. Open your Google account (Gmail) on a web browser from the computer
2. On the upper left screen side where the Google logo is, click the drop-down arrow beside Gmail and select Contacts
3. You will see the entire contact lists with complete details backed up by Google
4. Click on the Mark All to select all the contacts or you can mark the contacts individually and then go to "More", scroll down and find Restore Contacts
5. Select the time-frequency to restore. You can choose to restore contacts from 10minutes ago, 1 hour, Yesterday, 1 week ago, and even customize the date and time settings of your choice
6. After choosing the best possible time to restore, confirm the action by clicking 'Restore'

Tips:
If you don't have backup options then it is better that you take care of your smartphone to avoid cracks or getting it broken. Below are some helpful tips on how to avoid broken screens.
Part 3. What to Do with A Cracked Samsung Phone? - Regular Solutions
Android phones especially Samsung Galaxy series are quite hard to break as compared to iPhones however they are still not free from any damages. In fact, a lot of Android users report cracked or broken screens every now and then.
There are a lot of factors and conditions on how the screen would break or crack; usually depending on the severity of the fall or impact. If you are in this kind of situation, the first thing you will think about is how to get the contents. But just how fragile Samsung phones are? Let's find out:
According to recent drop experiments made by groups of users and techies, they found out that Samsung Galaxy S7 Edge, Samsung Galaxy S8, and S8 Plus break easily compared to other series models.
Although they are all made from the famous brand of Gorilla glasses, still the chance of breaking the screen is high. The more beautiful design the phones get, the more breakable they are. So what do you need to do when your screen breaks?
1. Contact Manufacturer
If your phone is new and you broke the screen, contact the manufacturer right away and let them know. Although Samsung does not cover broken screen devices under their warranty care, they do offer repair and replacement at a certain cost.
However, you may also sign up for Samsung Premium Care or also known as Samsung Mobile Care wherein they are able to provide 1 free screen repair due to ADH (Accidental Damage from Handling). This is also considered to be a form of extended warranty service. Expect that the repair service is really costly.
2. Bring it to Authorized Samsung Repair Centers
You don't want your phone to be damaged further right? So another option for you is to bring the broken device to the nearest authorized Samsung Repair Center in your area. The cost of repair for screen replacement is more expensive compared to third-party repair services however you get the peace of mind that you are dealing with authorized Samsung services especially if you are still under warranty.
The warranty is not void if you take your phone for repair under Samsung repair centers. Of course, you must expect that the price could be higher roughly around $270-$390 USD for a broken Galaxy S8.
3. Insurance Claim
Some people register their smartphones with insurances to get better benefits in cases like this. If you have signed up for an insurance or phone insurance then it is really better to file a claim to get your phone fixed or replaced. Call your insurance company for all the details and coverage.
4. Repair it
When you are already out of warranty and you think repair centers charge more than they should, then you can also fix or repair the broken screen by checking out DIY (Do it Yourself) tutorials online. There are a lot of videos and articles about how to fix cracked screens.
Make sure before doing the repair that you thoroughly understand how the phone works and how to troubleshoot it in case. However, it is too risky to repair the device on your end especially when you did not back up the Samsung phone beforehand.
5. Recover Data
If you think getting a new device is a better option than fixing it then you can start looking for the different ways to get back the files inside the phone especially the contacts first so you can let your friends and family know what happened.
You can use third-party recovery programs available online to retrieve contacts from Samsung Galaxy with broken screen at any time.
If you are searching for the best recovery software to use in retrieving the files back then better read along.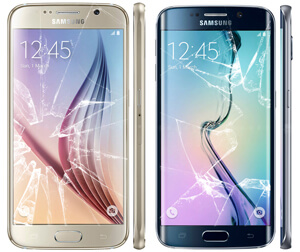 How to Recover Contacts from Samsung Galaxy With Broken Screen
Part 4. How to Avoid Broken Screen on Samsung Galaxy Devices
Because smartphones are expensive, you cannot afford to purchase another device just like that and break the screen again unless by accidents; however you can avoid this in the future by following the recommended tips below:
1. Use protective casings and accessories
Back phone cases are very popular now as well as other protective phone accessories. You can purchase one and use on the phone to lessen the impact in case it falls down.
2. Avoid Dropping
As much as possible, avoid dropping the device by not putting it inside your pockets, it is better to use a mobile sling bag wherein it is easier for you to use the device plus it lessens the risk of dropping.
3. Careful with liquids and hard objects
Smartphones are too sensitive that even extreme moisture can cause damages to it. Do not expose your device near any possible liquid fall or hard objects.
4. Use Screen protectors
The most important thing you need to protect on the phone is the screen because it is made of glass. You can invest in a very good screen protector to that in case the phone drops or falls, the screen is well protected.
5. Be cautious when letting children or other people use your phone
Educate your children on the proper use of smartphones. Let them know how sensitive the screens are and the possible effects if the device falls.
6. Avoid installing or customizing the operating system
Although Android is very good at customizing its operating system, always take proper precautions. If you really desire to root the device and you are unfamiliar with the steps, better to take the phone to the experts and let them do it for you. This process is not highly recommended but in case you want to try then you must learn how to do it properly and safely.
7. Always put on secured areas
Normally we just put or leave our devices almost anywhere at home which can sometimes be the main reason for dropping and breaking. Make it a habit to put your phone on a flat surface like the table at home or the countertop that is free from any obstacles and dropping.
Video Guide: How to Retrieve Contacts from Samsung Galaxy With Broken Screens
Smartphones have become one of the daily needs for both personal and work purposes. They simply connect all of us to a positive extent that we can share good vibes and positivity.
However, if your phone gets broken or damaged, you easily get out of the loop and lose touch with all the important people in your life. No one likes to get their phone screens broken so as much as possible take care of your devices by following our tips.
If you already messed up with the Samsung Galaxy device and you need data recovery then use FoneDog Toolkit- Broken Android Data Extraction. It is so easy to retrieve contacts from Samsung Galaxy with broken screen in just a few clicks.