"All of my iPhone contacts Missing suddenly. I suspect that yesterday's system crash is behind this mishap. I'm hoping I can still get them back before I start contacting people and ask for their phone numbers. That will surely take a while to finish. Can you help me out?"
"What to do in this situation? Don't panic, 2018 newest solutions of how to recover iPhone contacts disappeared have updated in this article. Read Along!"
Sound good? Let's dive right in...
Part 1. Why are iPhone Contacts Missing?Part 2. iPhone Contacts Missing, How to Recover?Part 3. The Best Ways to Restore iPhone Missing Contacts.Video Guide: Selectively Recover Lost/Deleted Contacts from iPhone.Part 4. Conclusion.
Part 1. Why are iPhone Contacts Missing?
Your contacts can well be more valuable than your messages. After all, you can't send messages to people without knowing their numbers. You can't call them too.
You may have lost contacts in the process of updating your iOS or after an attempt of jailbreaking your phone. Accidental deletion is another culprit behind miss contacts.
We're past the generation of bulky address books. Our phone's Contacts app has eliminated the need for written contacts list. Unfortunately, that means that we're left with no copy to refer to.
But lucky for us, today's technology allows us to instantly fix the problem of missing iPhone contacts. With backups and data recovery software, you can get them back in no time. You will learn some easy ways to fix iPhone contacts disappeared 2018.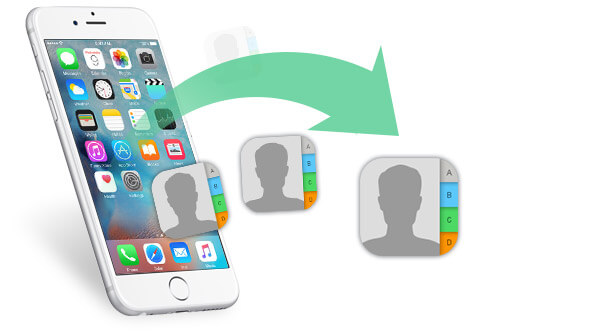 Let's do this to fix the missing problem!
Part 2. iPhone Contacts Missing, How to Recover?
Here are 4 easy ways to fix iPhone contacts disappeared in 2018.
Method 1: Check Contacts Groups.
Your Contacts app may just be showing some of your contacts. To view all contacts on your phone, follow these steps.
Open the Contacts app on your iPhone.
From the top left-hand corner, tap Groups.
Click All on My iPhone > Done.
Method 2: Sync contacts from iCloud to iPhone.
This process works only when you have turned on syncing of your contacts to iCloud. You can verify that by heading to Settings > iCloud > Look for Contacts and see if it is turned on.
If it is, you can easily merge your existing contacts to those in your iCloud backup. However, you won't be able to know in advance if the contacts that you need are in the backup.
If you want to sync your contacts from iCloud, do the steps below on your phone.
On your iPhone, open Settings and tap iCloud.
Slide the toggle on Contacts to turn it off.
On the prompt, select Keep on My iPhone.
Turn on Contacts by sliding the toggle again.
Tap Merge.
Method 3: Restore Missing Contacts via iTunes backup.
If syncing to iCloud has not been enabled, you can try restoring your iTunes backup. Needless to say, this process will fix the problem only if you have previously synced your iPhone to iTunes.
Before restoring, make sure that the latest version of iTunes is installed. If not, you will be required to update first before you can proceed. Your iPhone's iOS must also be updated.
The disadvantage of this solution is that it will restore all backed up data. There is no option to selectively restore your contacts.
In addition, your iPhone's existing data are replaced by those in the backup. If you still want to proceed, follow the steps below.
Connect your iPhone to the computer.
Wait until iTunes launches automatically. If it does not open, you can run it manually.
From the top left-hand corner of the interface, click the phone icon.
Under Settings, click Summary.
Select Restore Backup. A pop-up message will ask you to choose a backup to restore. From the drop-down list, choose the backup that contains your contacts. Press Restore.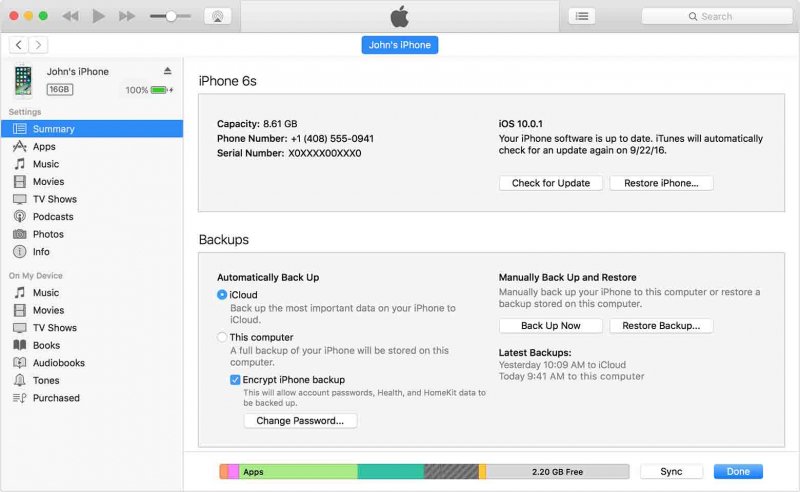 The best Solutions? The method described next is simpler, safer, and quicker to recover lost iPhone contacts.
Part 3. The Best Ways to Restore iPhone Missing Contacts.
If you're looking to restore your lost contacts, leave the job to the expert. FoneDog iOS Data Recovery is a trusted software in retrieving a wide range of files from different iOS devices.
The program offers 3 easy ways to fix "iPhone contacts missing in 2018.
Free Download this version to get back your missing iPhone contacts. Whether you have performed backups or not, this recovery method will allow you to restore lost contacts.
How to use Fonedog Toolkit to quickly recover iPhone Disappeared Contacts? Keep Reading! 3 effective ways to fix by Fonedog are detailed listed at following.
Option 1: Recover Lost Contacts directly from the iPhone.
Step 1. Allow direct recovery from iPhone.
Connect your iPhone to the computer. Run the software and choose Recover from iOS Device from the available recovery tools. Hit Start Scan to proceed.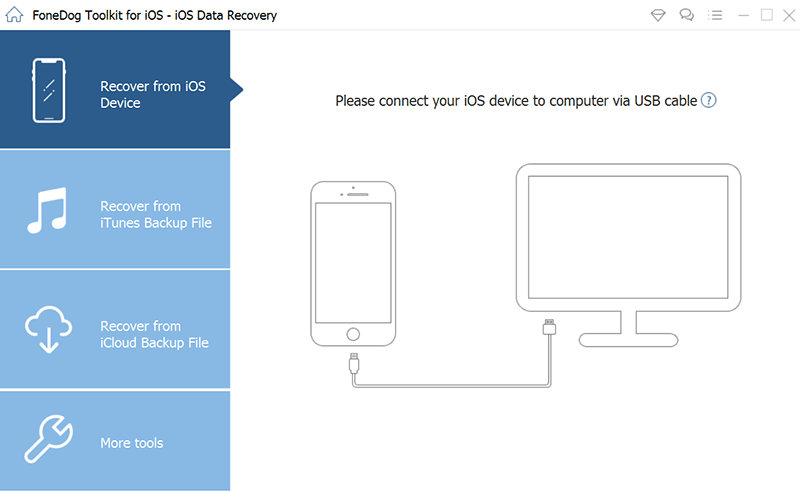 Connect iPhone to Computer -- Step1
Step 2. Preview lost contacts on iPhone.
You will see a list of file types. Select Contacts to view the found contacts.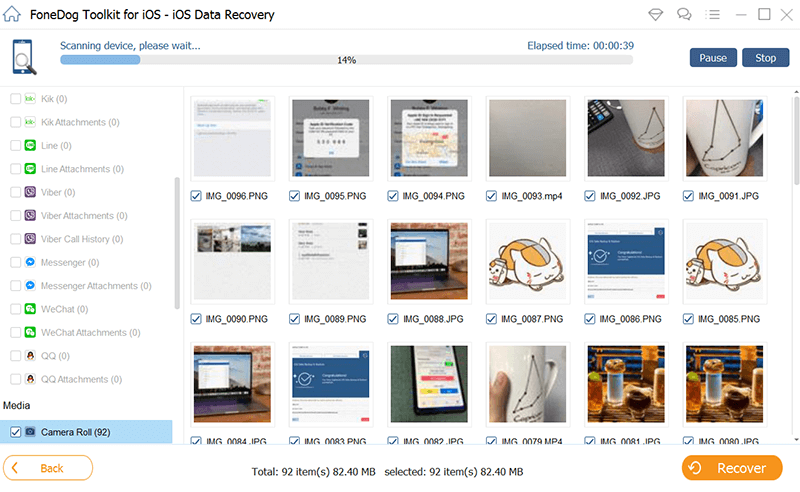 Step 3. Restore deleted iPhone contacts.
Choose which contacts you want to restore. Do so by ticking the items of your choice.
To download them, click Recover. Fix iPhone contacts missing is so easy with FoneDog.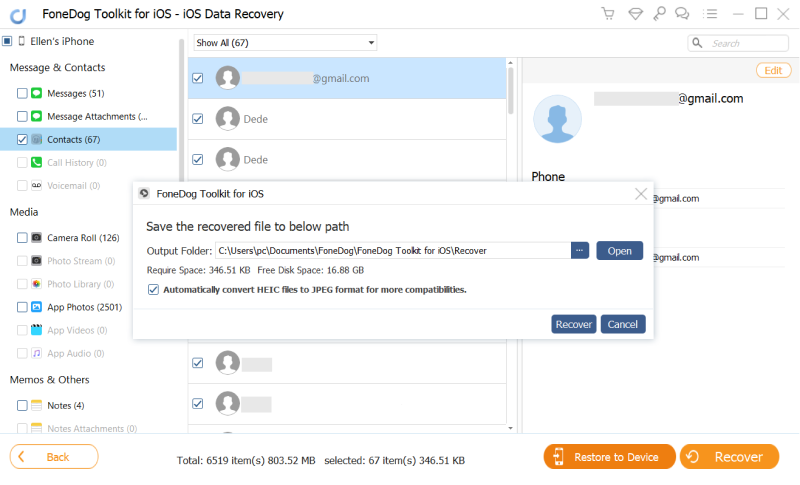 Recover Contacts from iPhone -- Step2
Download me and let me help you restore missing contacts from iPhone.
Option 2: Restore Deleted Contacts from iTunes backup.
Whereas restoring backup directly from iTunes will require you to recover all files, the software allows you to retrieve solely contacts and select which ones you need.
1. Scan Your iTunes Backup
Run the software and click Recover from iTunes Backup File.
Choose the backup file that you want the software to scan. Hit Start Scan >.
Note that the scan may take several minutes depending on the number of files on your backup.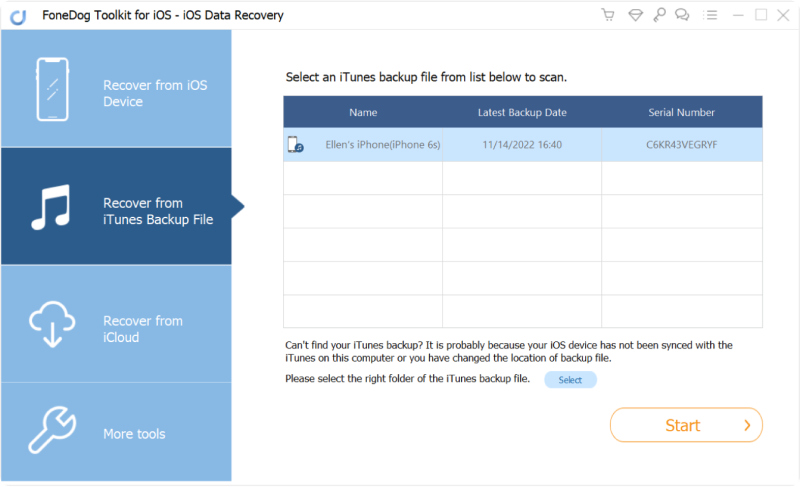 Scan Your iTunes -- 1
2. Preview Missing contacts.
All files in the backup file will be displayed. Since your goal is to fix missing iPhone contacts, select Contacts.
All contacts, both existing and deleted, will appear. Review them and see which ones you wish to keep.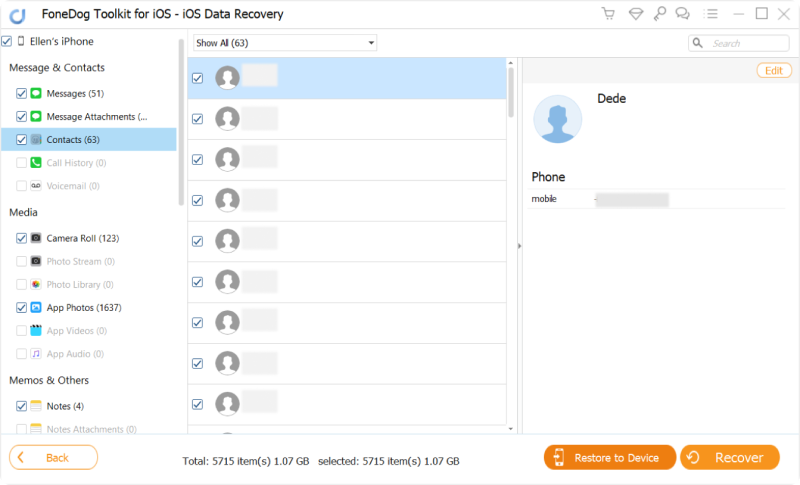 Preview The Missing Contacts -- 2
3. Recover Missing iPhone contacts.
Mark the contacts you want to restore. Finally, click Recover to save them on your computer.
Recover from iTunes backup is a good way to fix iPhone contacts missing.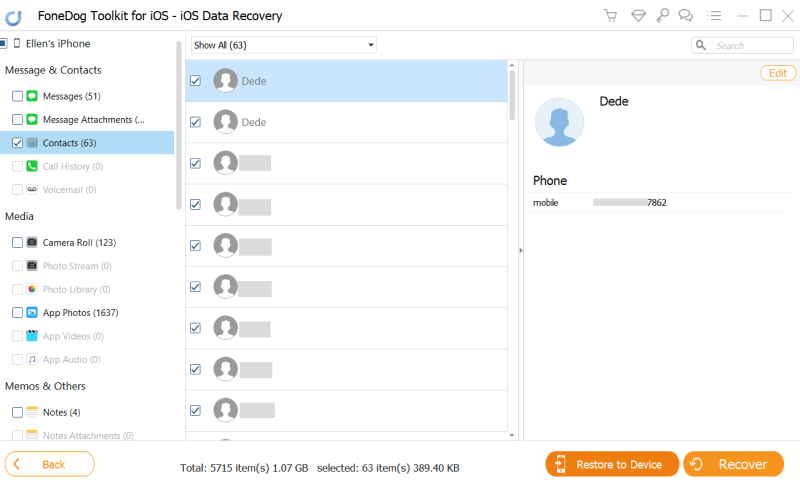 Recover Deleted Contacts from iTunes -- 3
People Also Read:
How to See Deleted Instagram Photos!
Get Back Lost Contacts after iOS 11 Update
I have such a powerful function. How can you not use me?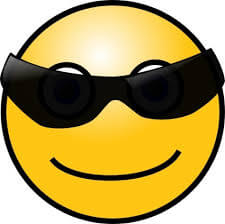 3: Retrieve lost contacts from iCloud backup.
If you have synced your iPhone to iCloud, this recovery mode will work for you.
#1. Log in to your iCloud account.
From the available options, select Recover from iCloud Backup File among the choices.
You will be directed to an iCloud login window. Enter your credentials to proceed.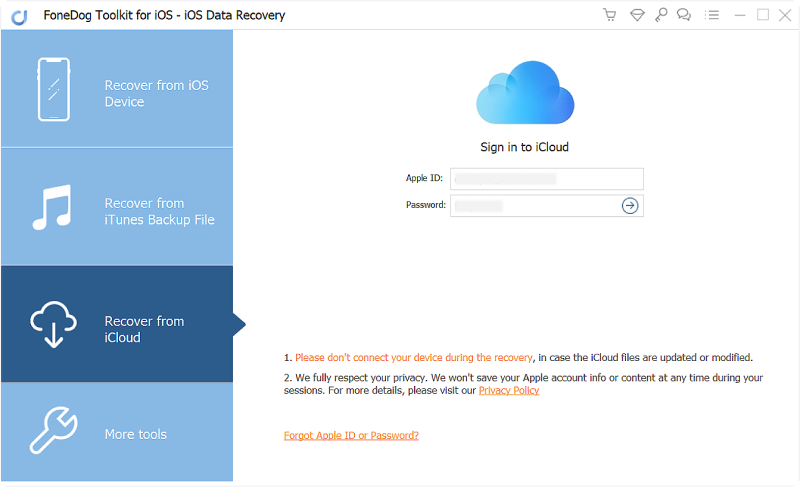 Login iCloud -- #1
#2. Authorize scanning for contacts.
Once logged in, you will be asked to select one backup file that the software will scan.
Hit Download. A small window will prompt you to choose file types that you want to retrieve.
Tick Contacts and click Next to start the scan.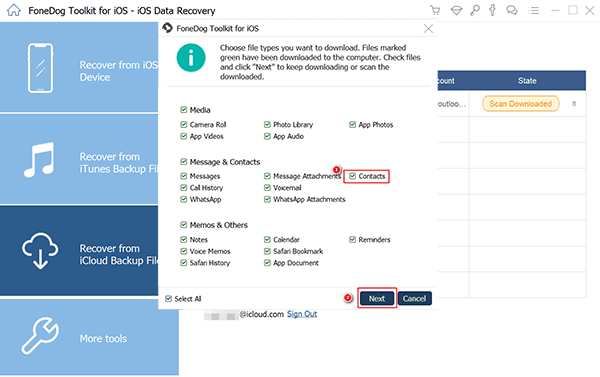 Select Contacts to Scan -- #2
#3. Preview and recover contacts.
View the contacts found in your iCloud backup file. Tick the boxes of those that you want to recover.
To download them, click Recover. Then you can fix iPhone contacts missing by iCloud.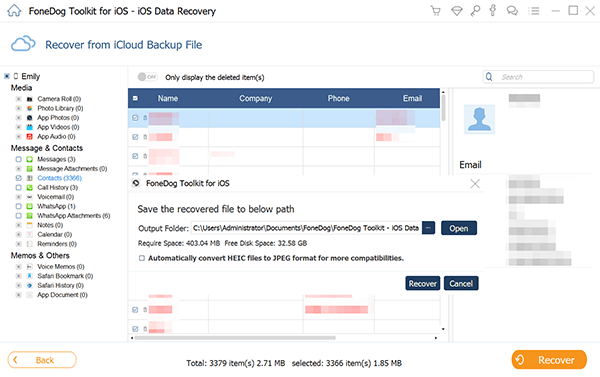 Recover Missing Contacts from iCloud -- #3
Video Guide: Selectively Recover Lost/Deleted Contacts from iPhone.
Part 4. Conclusion.
If some or all of your iPhone contacts are missing in action, it's time to turn to FoneDog iOS Data Recovery for help. It's a DIY fix that is safe and effective. You can have peace of mind knowing that you recover lost contacts without the risk of overwriting files.
With the 30-day free trial, the software allows you to restore files at no cost. You can even try it out on your iPad, and see how it can restore deleted files from there.
If this post has helped you, why not share it with your friends? This might just provide the fix that they absolutely need.