"I need iCloud Backup Extractor to recover my lost data. Please help me What is the best iPhone backup extractor? I use an iPhone and I must say that I am pretty happy with it. I did update my iOS just the other day, been avoiding that for a few months now, in fact, my iOS is pretty old and I just updated the iOS 11. It's quite nice. The only problem is it seems that quite a few of my contacts, messages, photos and other stuff went missing.
Maybe I did something wrong? I didn't notice it until a week or so after and I know I can use iCloud but I don't want to lose all the new contacts and other stuff I got during the week. Is there any way I can just choose some of the files from iCloud? There has to be some sort of extractor or something right? Please let me know as soon as you can."
Tips:
Having an iPhone is a pretty amazing thing, it is without a doubt one of the smartest mobile phones available on the market today. Many users are happy with the technology backing the iconic design of an iPhone and it's hard to argue why they wouldn't. The beauty of an iPhone also lies with the amount of support and apps it has, getting iOS specific programs can really help you improve the usage of your phone and can really go the extra mile for users.
Part 1. What Is iCloud?Part 2. How to Recover Data from iCloud Backup Extractor Part 3. Video Guide: How to Recover Data from iOS Data RecoveryPart 4. Conclusion
Part 1. What Is iCloud?
Speaking of the extra mile, Apple developed a rather handy backup for iPhone users called the iCloud. The idea is quite simple, you have an automated program that can backup your information on the internet, all you need to do is actually open an account. When you purchase a brand new or even update the iOS of an iPhone, you will be invited to connect or sign into your iCloud.
Assuming you already have an account, that should make things easy and you will definitely have an easy time of tying it all together but even if you don't have one, signing up for an iCloud account is quite easy and the best part is, it's free. Create an account and get a backup of your contacts, photos and more. You can store up to 5 GBs for free and if that seems too little for you, you can always purchase more space.
Most people don't know, but iCloud once connected to your iOS device actually updates every 24 hours, as long as you connect it to a power source and has wifi because nobody wants to run out of data after all. Now that makes things a little easier, after all, you don't want to recover information lacking about 6 months worth of use, would you?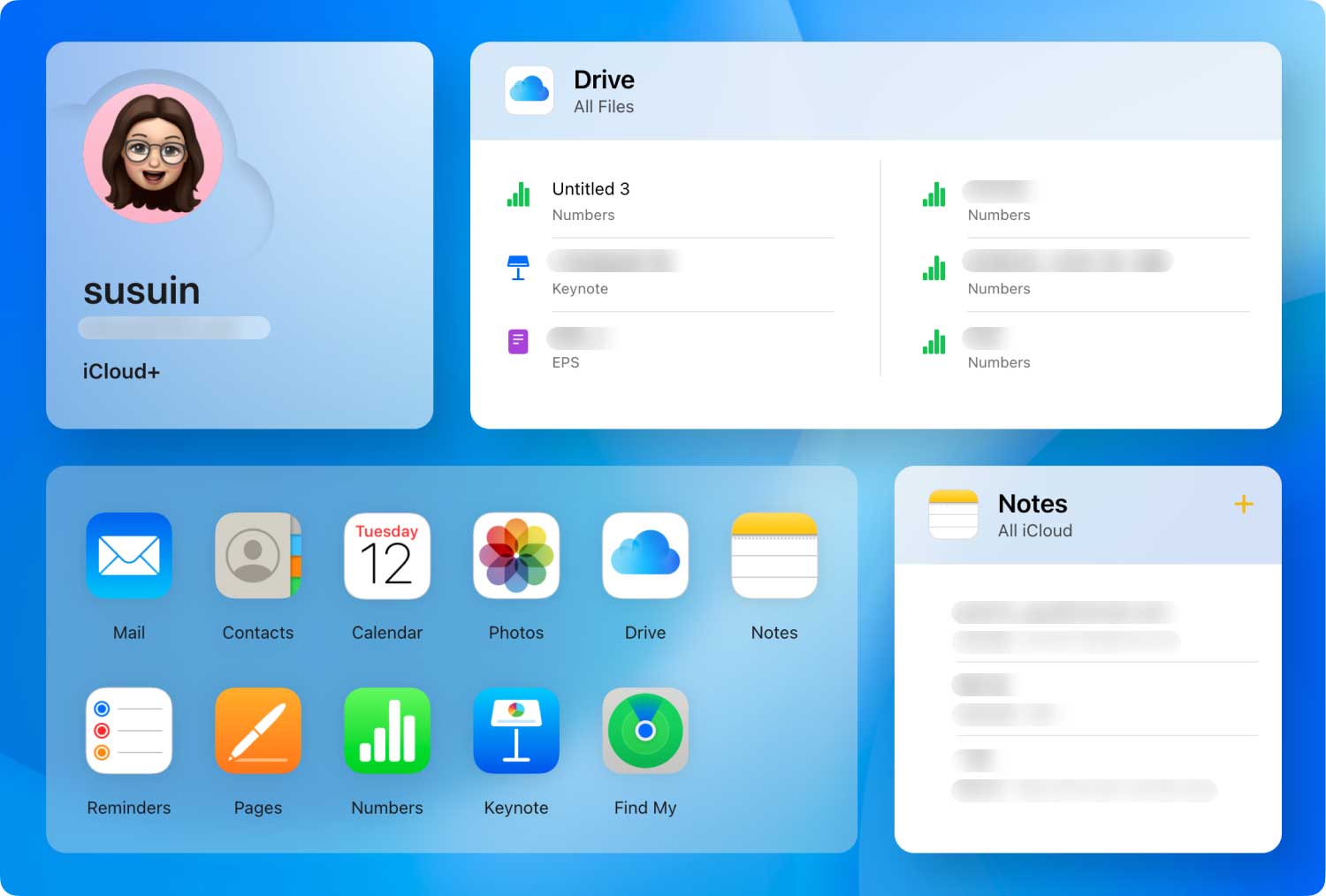 As great as iCloud is, there are some problems and one of them is that if you did not notice missing data as soon as you lost it, you may have a difficult time getting it back. Let's assume you noticed that you lost an important text message, but only realized it 3 days after it was likely deleted. Even if you do restore from iCloud, you will only restore the messages of yesterday and since you lost it 3 days ago, it is unlikely to be there.
Another problem is much like the user above, if you recover about a week or so later, assuming iCloud did not back up in the week, you will be losing all the data you've received within the week - that will include text messages, new contacts, photos and so much more. Are you willing to lose week's worth of time on your phone just to get that information back? The likely answer for most will likely be a resounding 'no.'
Part 2. How to Recover Data from iCloud Backup Extractor
As the user mentioned above, however, there is a way to still get the information from iCloud but this will take another program to help you extract the exact data you want to get back.
Turn no further than Fonedog iOS Data Recovery in order to help recover the information you want using iCloud. What is Fonedog iOS Data Recovery, one may ask? It is a program that can help you recover your iOS data using various methods and one method is to find it using iCloud and the program itself. Follow these steps in order to get your data back:
Step 1: Download Fonedog Toolkit and Log in iCloud Account
Download and install Fonedog iOS Data Recovery to a computer or laptop. As soon as you have successfully installed the program, you can click on the third option on the lefthand bar, it is titled "Recover using iCloud Backup Files."
As soon as you press that option you will be brought to the login site of iCloud while still using Fonedog iOS Data Recovery. Kindly just place your username and password to proceed.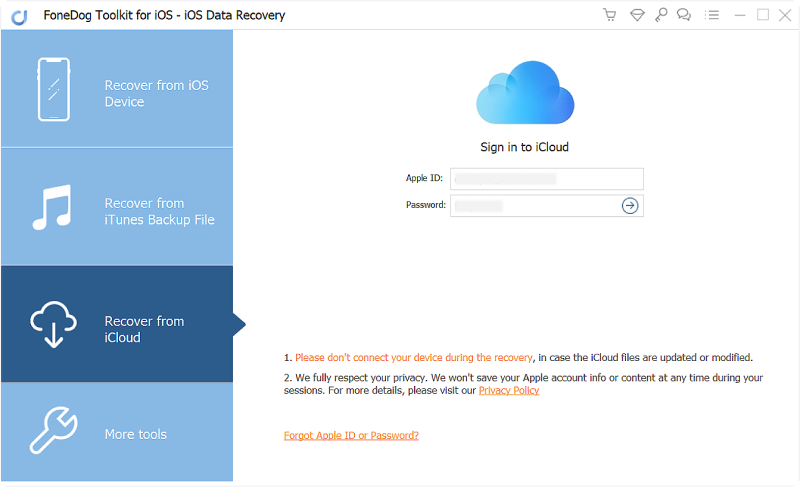 Step 2: Extract Data from iCloud Backup Extractor
After entering, there will be a scanning process, please allow the scan to finish. This may take some time depending on the amount of data that Fonedog iOS Data Recovery will need to read through but it should end in a few seconds or a few minutes, please do not shut down the computer in the middle as this may lead to an error.
When the scanning has been finished, you will be brought to a screen with various information that you can recover. You will notice things like contacts, messages, call logs, photos and much more.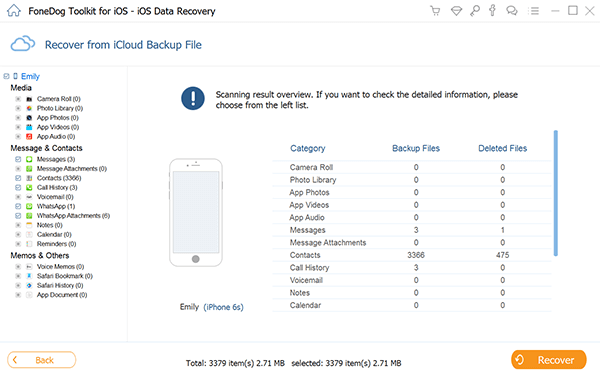 Step 3: Select Desired Data from iCloud Backup Extractor to Restore
When you've chosen what you want to recover, you can view all the deleted data in a preview window. Hopefully, you should be able to see what you have lost and as an example let's use "Contacts" for now.
As you can see, there are a number of numbers that came up, these are the recently deleted and the ones you wanted to recover but could not because iCloud would overwrite everything. Choose which items you want to recover and click the "next" button.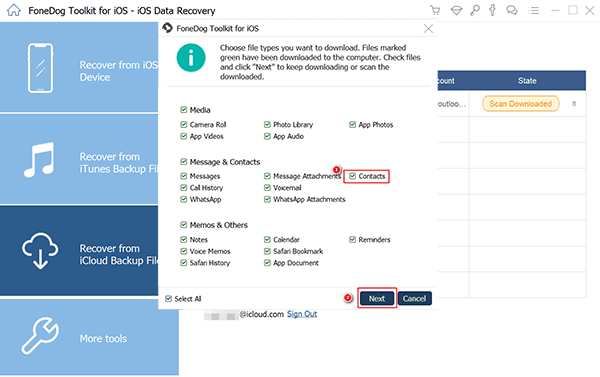 Step 4: Retrieve from iCloud Backup Extractor
You will be given an option as to what folder you want to save the data to, just assign and click on the final "Recover" and you are done.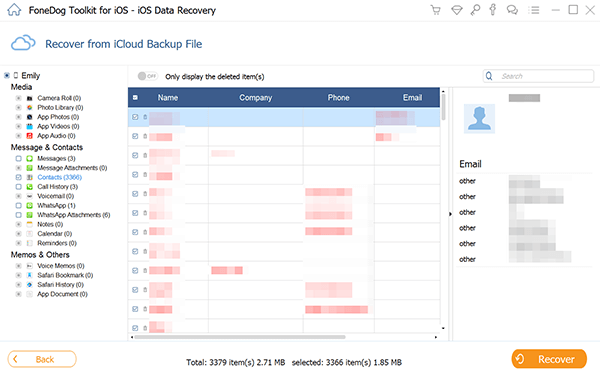 People Also Read3 Top Ways to Get Back Contacts after iOS 11 Update3 Effective Ways to Recover Lost Files on iPhone after iOS 11 update
Part 3. Video Guide: How to Recover Data from iOS Data Recovery
Part 4. Conclusion
Now, you can choose which data you want to recover in particular thanks to iCloud and Fonedog iOS Data Recovery. With Fonedog iOS Data Recovery you also have a few more options available to you in order to recover the data, but rest assured all of them have their own merits and preference.