By Nathan E. Malpass, Last updated: October 28, 2022
I have accidentally deleted photographs from my Intex Aqua Plum Mobile phone. I need to recover these photographs. How to retrieve deleted pictures from my phone?? Please help!!
The Millennial generation's version of documenting everything from the food they eat to the places they travel to be with the use of their Android phone's camera. It is through this that we have learned the modernized way of keeping memories in the albums of your Android's gallery.
This is why we can easily conclude that it is easy to hoard memories in the palm of your hand and easily go back to it whenever and wherever you want. Gone are the days that you still have to take photos using a costly camera that not everyone can afford.
Gone are the days that you still have to print and develop photos and put it in albums. Yes, those were good old days too but in today's generation you can keep memories of any events you want through taking a lot of photos, no matter how many there are and no matter how big or small the event is.
In today's generation, people value photos they take in places they love, with people they adore and food that they desire. This is because it is with this android device camera that we are able to go back to this event in our lives and live them again.
We can also upload these photos on social media sites, but there are also personal photos we only keep to ourselves. That's why it's important to save it somewhere else before unfortunate things happen.
Option 1: Regular Backup Is A Good HabitOption 2: Retrieving Deleted Photos Through FoneDogVideo Guide: How to Retrieve Deleted or Lost Pictures from Your Android Phone
People Also ReadBackup and Restore Photos from Android to Huawei P20How to Back up Photos Located on Android Devices
Option 1: Regular Backup Is A Good Habit
Well, because we are affectionate towards these memories, you need to back them up on your device. All you need to do is open your settings, enable backup reset in the options or better yet have another copy of these photos in your laptop or in your external disks and never worry about them being accidentally deleted in your device.
Like any of your files on your phone, you can also save your photos online. There is actually a lot of cloud storage where you can save a lot of photos. There is Google Drive, Microsoft OneDrive, and Dropbox.
These tools will allow you 15g of storage and sometimes even more for a premium account. Backup your photos here so you can go back to it again even after many years.
If you try to look at, reality check, there is a lot of this that could happen to your Android device, the very possible is that it could be broken, it could lag because of too many files stored so the files may be corrupted or deleted, or the worst you can accidentally reset all factory settings.
In cases like this, what is the most probable solution you can do if you have not backed up your files or if you do not have other copy of them on a separate device? One thing, install FoneDog toolkit.
FoneDog toolkit is designed to help you retrieve files you have lost or deleted on your android device. FoneDog toolkit has a friendly user interface that is so much capable of restoring your data in seconds by just following the simple steps below.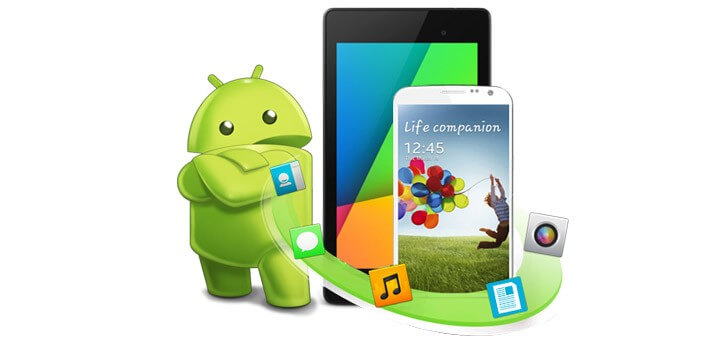 Option 2: Retrieving Deleted Photos Through FoneDog
With this powerful software, you get to recover deleted photos on Android with a computer.
Step 1: Download and Install
Connect your Android device to your desktop/laptop computer via UBS cord.
Install FoneDog toolkit on your desktop.
Launch FoneDog in the computer while it is connected to your Android device.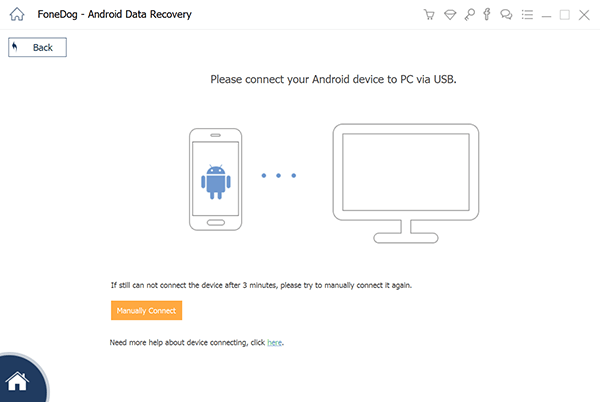 Step 2: Enable USB Debugging
When you have selected Data Recovery successfully, you have to set your Android device with the operating system of FoneDog. Setting the operating system varies with different models of Android.
There are various ways of using the FoneDog system with different Android Model:
Android 2.3: Enter "Settings", then Click "Applications" and Click "Development" and lastly Check "USB debugging".
Android 3.0-4.1: Enter "Settings", Click "Developer options" and then Check "USB debugging"
Android 4.2: Enter "Settings", Click "About Phone" and Tap "Build number" for several times until getting a note "You are under developer mode" you have to go back to "Settings" and Click "Developer options" and then Check "USB debugging"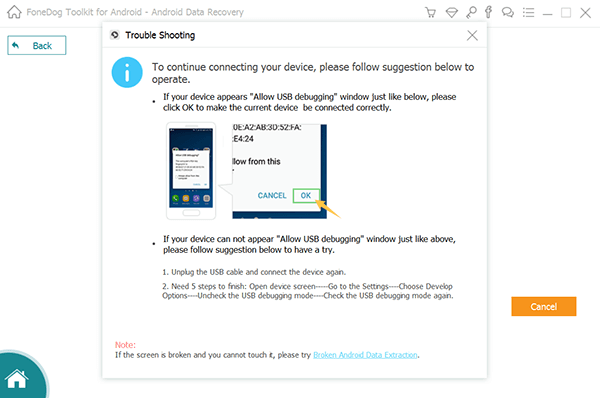 Step 3: Select File Type
There are then options on the computer screen asking what kind data or file you want to retrieve, in this case, you have to tap Gallery in which you store photos on your android device.Tips: FoneDog - Android Data Recovery not only retrieves deleted photos but also deleted text messages, audios, missing contacts, video, lost documents and so on.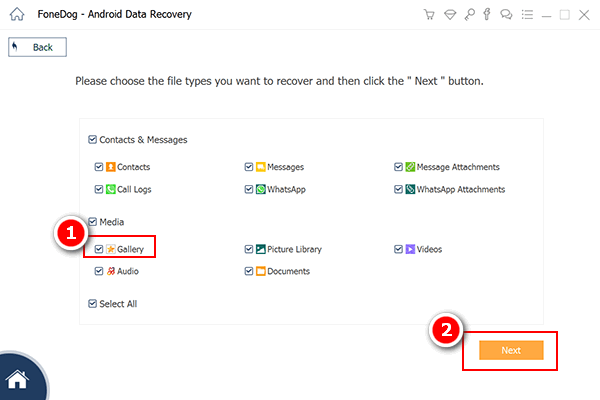 Step 4: Recover Deleted Photos
For the scanning of the device to proceed, you have to tap Allow at the bottom part of the screen.

The moment the scanning process is complete, a list of your photos will appear on the computer screen, all you have to do is select the photos that you want to retrieve and then select Retrieve.
Viola! You have now your precious photos back. No matter how many photos you want to retrieve, you can do it with our program. We don't just retrieve deleted photos, we retrieve all kinds of files for you!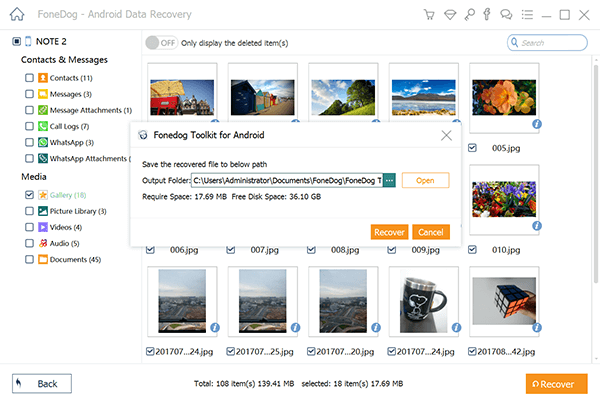 Video Guide: How to Retrieve Deleted or Lost Pictures from Your Android Phone
With FoneDog, you are able to recover important photos in your device in the blink of an eye, with just simply following the steps and recover them all no sweat.
You don't have to worry because you can always retrieve your photos anytime no matter how you lost it just by downloading our program. Like what we always do, we rescue to people who need us during desperate times. You're just one download away!