How to Recover Lost WhatsApp Messages from iPad after iOS 11 Upgrade
by Wian LJ | Lasted Updated 2018-03-13 09:59:48
"I have been using WhatsApp on my iPad smoothly but then when I received the iOS 11 upgrade some of my important conversations were gone after I accessed WhatsApp again. How do I recover lost Whatsapp messages from iPad after iOS 11 upgrade?"

IOS 11 on iPad is totally a make-over and a game changer that is why a lot of iPad users are extremely excited to upgrade. This new iOS is the most promising version among all software updates Apple ever created. With the recent public release of the new iOS 11, everybody has been busy trying to find means to get into this trend. Known to be the most ambitious iOS update ever, iOS 11 on iPad is also one of the things to look forward to. As Apple said, this iOS 11 on iPad will focus on multi-tasking and vibrant features. However, due to too much excitement and expectations, the most unwanted issue is happening after the iOS 11 update and that is data loss. Usually, data loss can be experienced by missing contacts, lost messages, lost photos, and much more. Even WhatsApp messages are getting lost too. In this article, you will learn how to recover lost WhatsApp messages from iPad after iOS 11 upgrade by using FoneDog Toolkit- iOS Data Recovery.
Part1. New features on iPad after iOS 11 upgrade
A complete make-over for an ordinary iPad was the least people expected but Apple shocked them all. IPads are now game-changers in the digital arena and here are some of the stand-out features you should know.
Drag and Drop – The Drag and Drop are now on iPad which makes it easier for you to send emails and attach media or documents. It smoothly drags and drops files, photos, links that are stored locally like iCloud, apps, and other third-party cloud storage.
Dock – The Dock area on the iPad has been changed and it's now looking more close to Mac which stays on every screen. This makes switching apps easily and your most recent apps that are still open appear on the right side of the Dock.
Instant Markup- Using your Apple pencil, you can now mark any screenshots and PDF faster to make your work more convenient.
Notes Drawing – Basically, iOS 11 lets you multitask on your iPad in a very cool way. You can now draw on Notes and even create inline drawings on emails.
Scan & Sign- This new feature makes scanning work more comfortable with just using your iPad. There is no need for you to use any scanning device if you got an important document to scan and send. The document scanner will do the job for you. It can cleanly scan and crop the edges of the document to make it ready for signing and sending.
Keyboard- Everyone has been talking about this new keyboard feature on iOS 11. The QuickType keyboard on iPad shows you all the letters, numbers and symbols you needed in just a single page. There is no need for you to press and look any further.
AR Technology – Augmented Reality is at its finest in iOS 11. Now you can experience one of kind AR technology on your iPad. You can to decorate your home, go on a city tour that you've never been and so much more.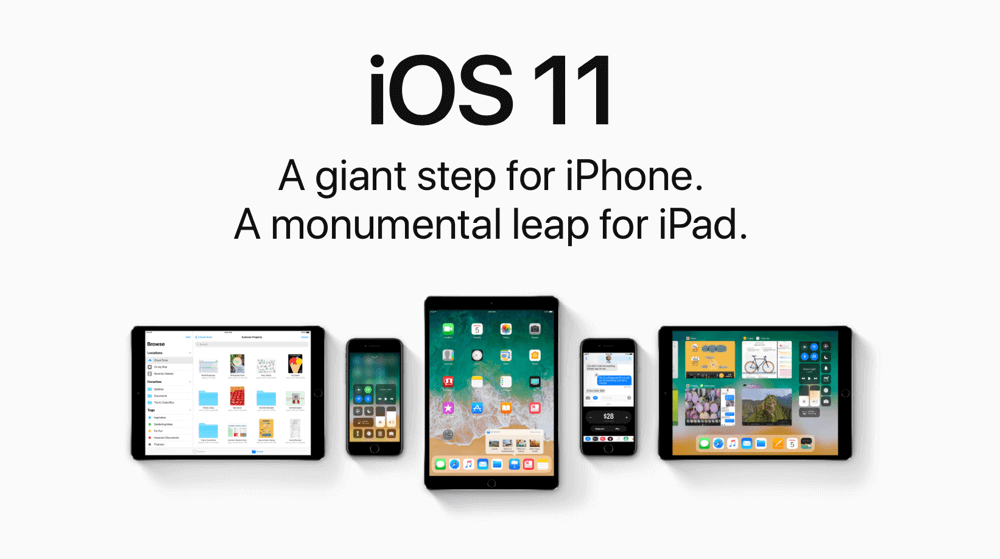 iOS 11
These are just a few of the best features iOS 11 has in store for us. If you are not quite familiar with these update then better be in the know before your time runs out. Since your iPad got a facelift in the iOS 11, you might be wondering where your apps are and other files are hidden now? WhatsApp is one of the most common apps that experience data loss every time there are new updates on iOS. Since WhatsApp does not store conversations in their servers, this means that your messages could be gone as well. The good thing is that there are ways to backup and save those conversations and there are effective ways to recover lost WhatsApp messages from iPad after iOS 11 upgrade.
Part2. How to use WhatsApp on iPad
There is no WhatsApp specific for iPads yet so you still need to either use the WhatsApp web to get hold of your messages or use third-party apps that will link you to WhatsApp. You still need your iPhone in order to verify the mobile number but then you can view, send, and receive WhatsApp messages on your iPad.
Access WhatsApp on iPad
Open the Safari browser and go to

web

.

whatsapp

.

com

You will see the desktop version of the WhatsApp and you will need to scan the QR code using your Smartphone. (Open WhatsApp Web on your iPhone and scan the QR code)
You are done. You can now send and receive messages but with limitations. You cannot see any notifications for new messages or send voice notes compared to iPhone or mobile version.
Your iPhone and iPad should be paired in order to use the WhatsApp on iPad at anytime. Although you might have enabled iCloud backup on your iPhone for your WhatsApp messages, there might still be cases of lost messages while using WhatsApp on iPad.
Part3. Recover Lost WhatsApp messages from iPad directly - FoneDog Toolkit- iOS Data Recovery
As we have mentioned earlier, the fastest and easiest way to recover lost messages from iPad after iOS 11 upgrade is by using FoneDog Toolkit- iOS Data Recovery. This program has a straight forward process to restore any lost or deleted files from any iOS device like iPhone and iPad. Two of the most effective ways will be to 'Recover from iOS device' and 'Recover from iTunes Backup'. The first option is very effective if you have not created any backup on the iPad. You can still recover them as long as the messages are not overwritten. Follow the guides below to recover lost WhatsApp messages from iPad after iOS 11 upgrade directly from the device.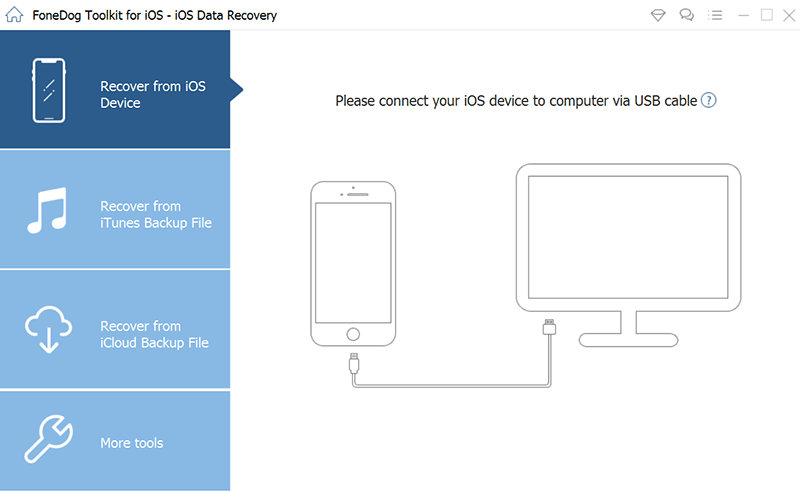 Start Scan device -- Step1
Step1. Open FoneDog Toolkit- iOS Data Recovery and connect iPad
First, make sure you have downloaded and installed FoneDog Toolkit- iOS Data Recovery on your Windows or Mac computer. Choose which version suits your computer and follow the onscreen installation guides. After the program has launched successfully, click 'Recover from iOS device' and connect iPad using the USB cable that came along with the box or any original lightning cable from Apple. Wait until the program automatically detects the connection and once it did, click 'Start Scan'.
Note: Turn off the iTunes auto-sync temporarily on the computer before launching and using FoneDog Toolkit- iOS Data Recovery.
Step2. Scan, Preview, and Recover Lost WhatsApp messages
The scanning process takes a while depending on the amount of data being recovered in the iPad. Once it is finished, you can now see all the files on the left side of the screen while you can preview the file categories on the right side area. Go to Messages and Contacts, then click on WhatsApp messages to view those lost conversations you were looking for. If you would like to recover selective messages only then mark them one by one otherwise you can select all to save all the messages in an HTML or .CSV file format in the chosen destination folder on the computer.
Recover WhatsApp Messages to PC -- Step2
Part4. Recover WhatsApp Chat History from iPad via iTunes - FoneDog Toolkit- iOS Data Recovery
You can also recover lost WhatsApp messages from iPad after iOS 11 upgrade from iTunes. If you have created a backup in iTunes and you would like to restore WhatsApp messages only then you should use FoneDog Toolkit- iOS Data Recovery. It has an effective recovery method that uses iTunes backup file and allows you to perform selective recovery.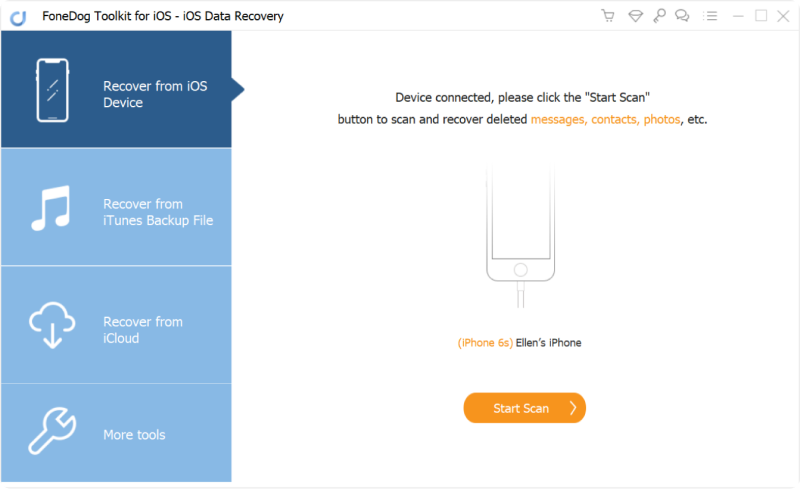 Connect iPad to PC -- 1
1. Launch FoneDog Toolkit- iOS Data Recovery
Open the program FoneDog Toolkit- iOS Data Recovery on your computer where iTunes was also installed. There is no need to launch the iTunes as the program automatically detects iTunes backup files when you click "Recover from iTunes backup file"
2. Choose desired iTunes backup file
Select the iTunes backup file and click on 'Start Scan' to begin the recovery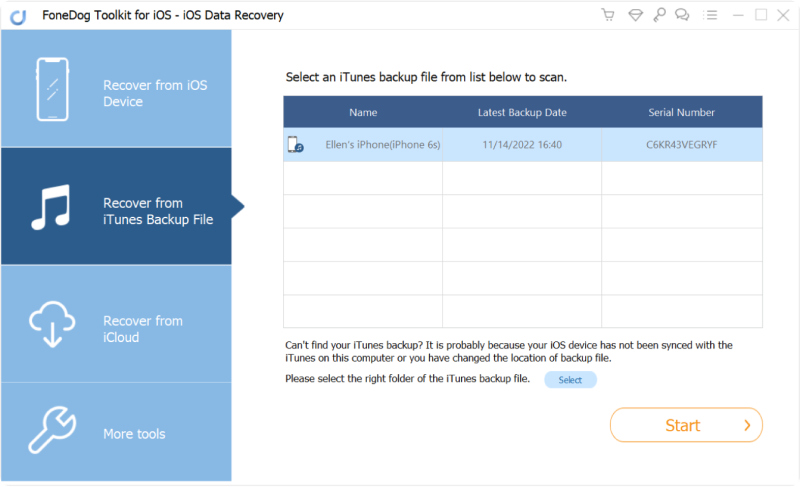 Choose iTunes Backup -- 2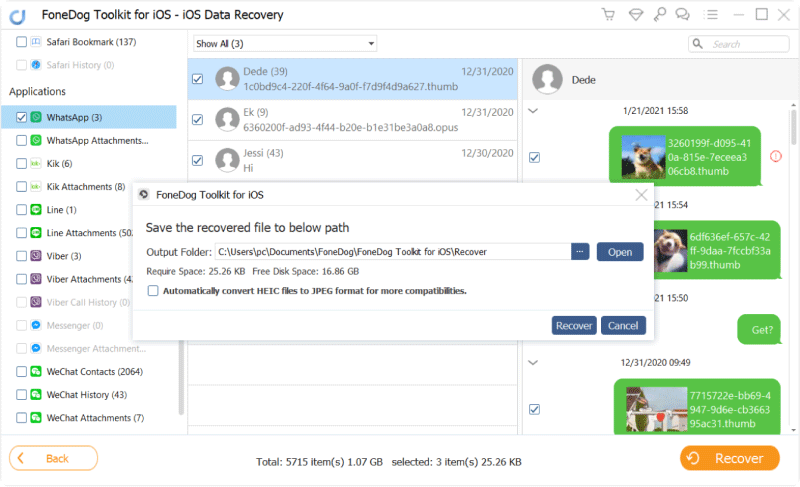 Recover WhatsApp Messages from iTunes -- 3
3. Preview and Recover WhatsApp messages
When the scanning stops you can now see the entire main file categories found inside your iTunes backup. You can go over each file and navigate through WhatsApp messages and from there, choose the desired messages you need by ticking on the checkboxes for selective recovery. Choose the destination folder on your computer and then click the 'Recover' button at the bottom of the screen. All WhatsApp messages will be saved in HTML or.CSV file format.
And that's it! You have finally learned how to recover lost WhatsApp messages from iPad after iOS 11 upgrade by only using FoneDog Toolkit- iOS Data Recovery. There is nothing more satisfying than seeing those important WhatsApp conversations again. Now you can be confident to use and explore the new iOS 11 without the fear of losing any more data.
Video Guide: How to Recover WhatsApp Messages from iPad after iOS 11 Upgrade
How to Recover Lost WhatsApp Messages from iPad after iOS 11 Upgrade