By Adela D. Louie, Last updated: September 17, 2020
Hi, guys!
I am very confused now because I need a very important document, but I deleted it a few days ago on my iPhone 7. Now I need it, is there any way to recover the deleted files? The iOS version is 10.2. Please Help me? Thanks.
Data loss is one of the worst and irritating things to happen to an iOS device user. If you have not experienced it yet yourself, consider yourself lucky. Many iPhone and iPad users would love to trade places with you. A lot of things can be the cause of data loss. For example, a virus may have infected your phone, or you may have unwittingly installed malware that deleted or corrupted your files. There are other reasons as well. You may have unknowingly deleted your files. You might have accidentally restored your device to its factory settings. You may have updated your iOS, this could lead to data loss as well. There are lots and lots of reasons as to why data loss happens, what we have discussed is only a tip of the iceberg. Losing data can have consequences as well. Your phone may be corrupted. You may have to get it repaired or have it fixed. You can also fix it yourself!
However, sometimes it may be a bit of a hassle for us to find a quick and effective solution to recover all our lost data. There are a wide variety of ways to do this. However, here's one word of advice. When all of a sudden you encounter data loss remember to do one very important thing. Turn off your device immediately. This way you can prevent further problems like severe data loss or problems relating to overwriting when you recover your lost data. Another reminder, time is everything. Always try to recover your lost data as soon as possible. This way you can prevent further problems and things will be easier for you. Most importantly, you should regularly backup your files. Doing this will massively help in a quick and easy way of retrieving data and will also prevent data loss as well.
The Common Solutions to Recover Deleted Files Easily and QuicklyThe Best Data Recovery Software to Recover Lost DataiOS Data Recovery Video Guide: 3 Ways to Recover Deleted Files on iPhone
The Common Solutions to Recover Deleted Files Easily and Quickly
Here we will offer you some of the many tips as for how you can recover your lost data in a quick, easy, and reliable manner.
1. Update iTunes
First things first, the easy ways. Update iTunes. An outdated version of iTunes may be the reason for your data loss. Try updating or installing to the latest version of iTunes to make sure you will not lose data.
2. Restart iTunes
Try restarting iTunes. Sometimes, you may have to restart iTunes to make sure you will prevent data loss.
3. Remove all USB Devices
Remove all USB devices attached to your iOS device. Check the cable connected to your iOS device.
These are some of the easy ways to recover and/or retrieve data. They may be easy, however, they rarely work. You can learn more about iTunes on Apple Official Website: "iTunes for Windows: iTunes Advanced preferences" or "iTunes for Mac: iTunes Advanced preferences".
The Best Data Recovery Software to Recover Lost Data
A very effective way of recovering lost data is using some kind of data recovery software. There are lots and lots of data recovery software in the market that you can use. However, it is sometimes difficult to choose which program you should install. There are expensive and effective programs and there are also cheap albeit ineffective ones. It can also be confusing to know what features the program should have in order for it to be effective. Never worry here we will tell you the best software to use so you can easily recover lost data.
NO. 1: iOS Data Recovery
FoneDog toolkit – iOS Data Recovery will be the best choice for you to use when recovering lost data on your iOS device. FoneDog iOS Data Recovery is widely considered as the best, the No. 1 iOS data recovery program around. It has been highly rated by thousands and thousands of iOS device users, with a lot of 5-star reviews. FoneDog supported the latest iOS 11 devices, including iPhone X, iPhone 8, iPhone 8 Plus.
What can iOS Data Recovery Do?
Through this software, you will be able to recover lost files such as Contacts, Messages, Call history, Notes, Photos, Video, Calendar, Reminder, WhatsApp messages, Messenger, Voice memos, Voicemail, Safari bookmarks, App's photos, App's video, App's documents. For FoneDog iOS Data Recovery, lost data is not truly lost and it can retrieve data from any of the following scenarios. When files have been erased or deleted, when your iPhone crashed, malware or virus infection, factory reset data loss, iOS update data loss, device not responding, missing data, forgotten password, phone locked, backup unable to synchronize and a lot more. And there are many Professional Guides:
3 Ways to Recover Your Lost Data
You can also recover lost data in one of the three following ways.
First is directly from your device. The program can scan your device to recover the lost data.
Second, through extracting your iTunes backup, you will then be able to select and recover those selected files.
And lastly, through your iCloud, you will be able to extract all your lost data from your iCloud backup.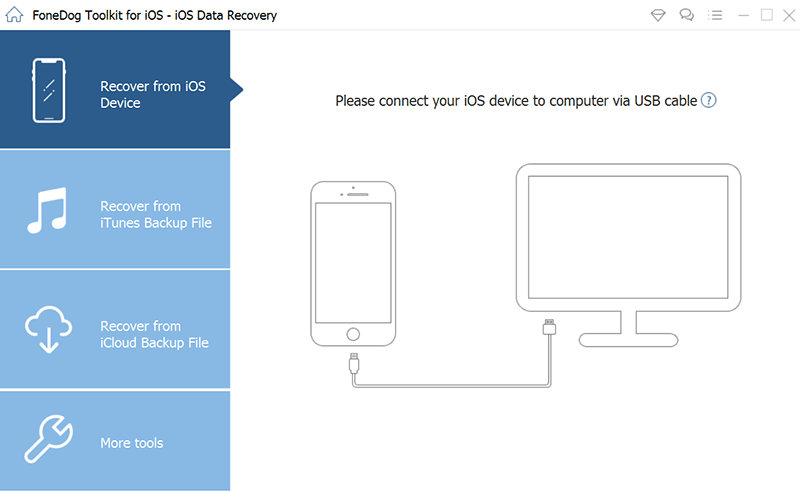 Recover From iOS Device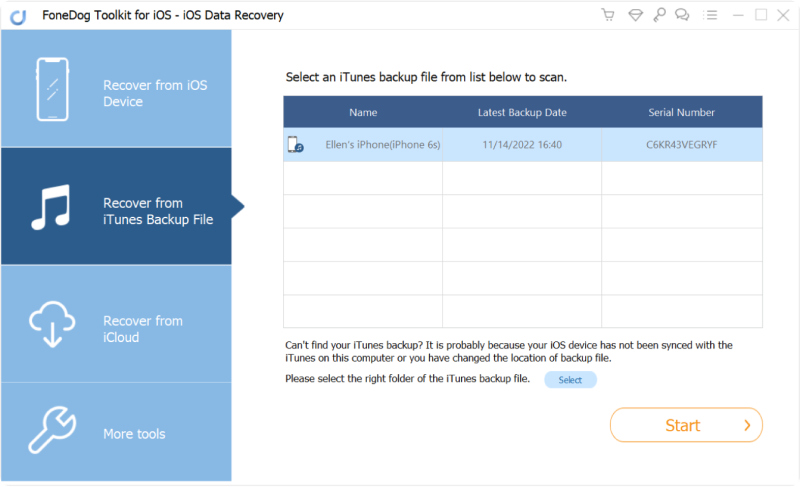 Recover From iTunes Backup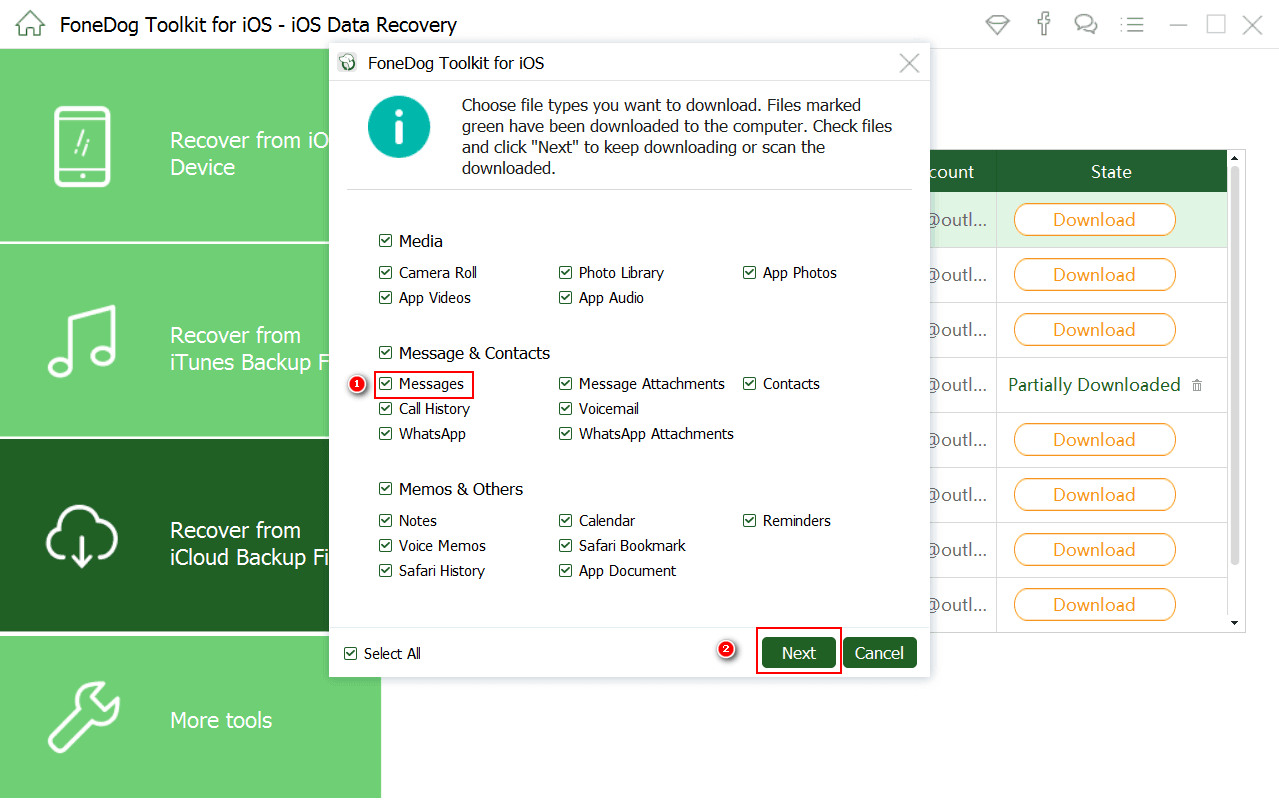 Recover From iCloud Backup
iOS Data Recovery Video Guide: 3 Ways to Recover Deleted Files on iPhone
FoneDog guarantees you a safe and easy service to recover your files. It is easy-to-use, flexible and most importantly secure. Only you will be able to access your account and retrieve your lost data. It is also compatible with many iOS devices including iPhone, iPad, and iPod touch.
Remember when in a time of data loss think of FoneDog toolkit – iOS Data Recovery, the most trusted iOS data recovery software. Hope this article helped.