"How do I fix this iTunes or iPhone Error 1671? Yesterday, I was updating my iPhone 6 but the download had failed because I did not have enough battery so I tried connecting my iPhone to iTunes to complete the download but I received a new error that I am not familiar with: iTunes Error 1671. How can I fix it? " ~Gabriel
Part 1. What is iPhone Error 1671 and Why is it Happening?Part 2. Reset the iPhone DevicePart 3. Fix iPhone Error 1671 Without Data LossPart 4. Fix iPhone Error 1671 via "Hosts" FilePart 5. Enter DFU Mode to Fix iPhone Error 1671Part 6. Recommendation
Part 1. What is iPhone Error 1671 and Why is it Happening?

What is iPhone Error 1671?
iPhone error 1671 shows up when you are trying to sync, back up, update or restore your iPhone, and another iDevice through iTunes. When you are updating your iOS device's software, for example, it will communicate and connect to Apple's servers. If the connection fails, the download will not be completed and will prompt you this error code 1671.
If you are one of the users that have been affected by this recent issue, iPhone error 1671 or iTunes error 1671, you may not know what to do or why this did happen. In this article, you will know more information about iPhone error 1671, its root cause and effective solutions.
Why did this happen?
The poor connection to Apple's servers may be caused by several factors such as:
Insufficient battery
Incorrect Date and Time on computer
Outdated iTunes version
Outdated PC OS versions
So in order to fix this iPhone error 1671, you need to adhere to certain rules before going deeper in resolving this problem. Make sure that when you receive this error, you have already checked the above rules.Once you have done all the necessary requirements mentioned above, you may now refer to the following best solutions.
Part 2. Reset the iPhone Device
A simple reset goes a long way. All troubleshooting guides start with this step so you must perform a soft reset or reboot to freshen up the iPhone system. You may also reboot your computer in the case so you can get better results. So if you are stuck with this iPhone error 1671, don't panic, try a good reset by holding down the Power + Home buttons until you see the Apple logo. You can ignore the power of notification once it appears.
If there are no other ways that will work out for you, try doing a factory reset to get rid of this iPhone error 1671.However, you must be fully aware of the consequences when you perform a factory reset. This can cause severe data loss if you have not created any kinds of backups. There are 2 ways to factory reset your iPhone.
The first option is to factory reset via the iPhone's settings:
Go to Settings
Select General
Tap Reset and then tap "Erase all content and setting" option
Enter the pass code of your iPhone
Tap Erase iPhone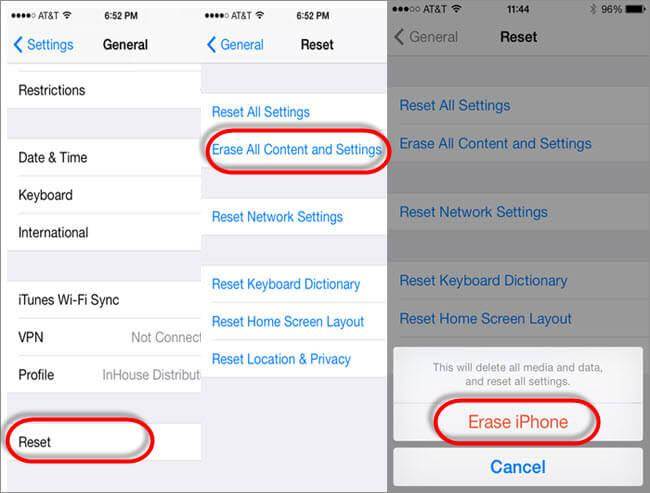 The second option is to hard reset using iPhone keys:
Press and Hold the Volume Down (-) + Sleep/Wake buttons for about 10 seconds until you see the Apple logo.
Release the keys once the Apple logo appears.
Wait until the iPhone boots up and you see the Home screen.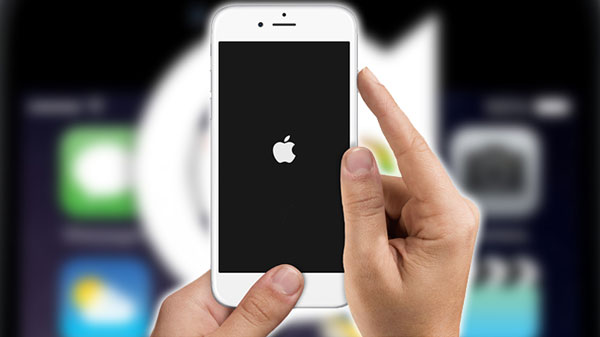 If hard resetting your iPhone fixes the issue, you can easily restore your data back if you have created backups. However, if this did not fix the iPhone error 1671, try doing other methods below:
Part 3. Fix iPhone Error 1671 Without Data Loss
If you are looking for options that will keep all your personal data and other phone contents safe and secured while fixing iPhone error 1671, you can check out FoneDog iOS System Recovery program.This software allows you to restore your iPhone back to normal without data loss. FoneDog iOS System Recovery also fixes other iOS system related issues like white screen, blue screen, red screen, freezing, Apple logo, stuck on recovery mode, looping on start and various iTunes error codes such as 1671, 1009, 14, and much more. This program works well with all iOS models like iPhone, iPad, and iPod Touch. To learn how to use FoneDog iOS System Recovery follow these simple steps:

Step 1. Download FoneDog iOS System Recovery
FoneDog iOS System Recovery is available for download on both Windows and Mac computers so you can take advantage of its flexibility. You can go online and download from there or go to this link. After you have finished downloading FoneDog iOS System Recovery, follow the installation process and launch the software right after. Click System Recovery on the main menu.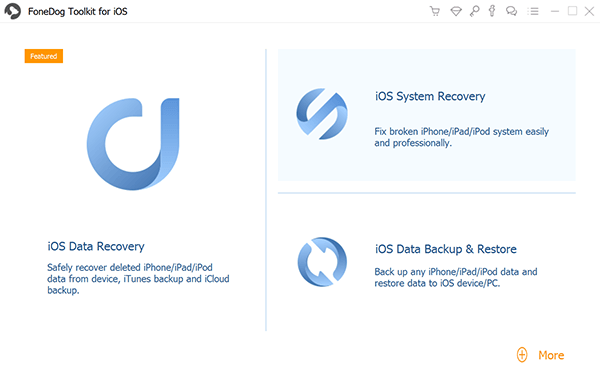 Step 2. Connect iPhone to the Computer via USB Cable
To begin the system restore, connect the iOS device to the computer using an original USB cable. FoneDog iOS System Recovery software will automatically detect the connection and will prompt you of the options. Choose among the issues you are experiencing and click the start button.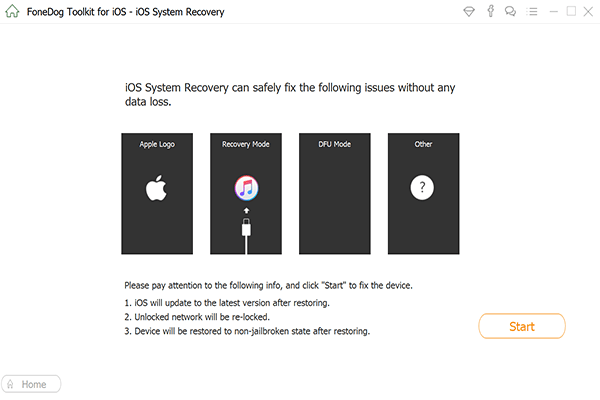 Step 3. Download Firmware Package
FoneDog iOS System Recovery will download and extract the firmware package once it detected your iPhone model. You may choose from the drop down options for the information required.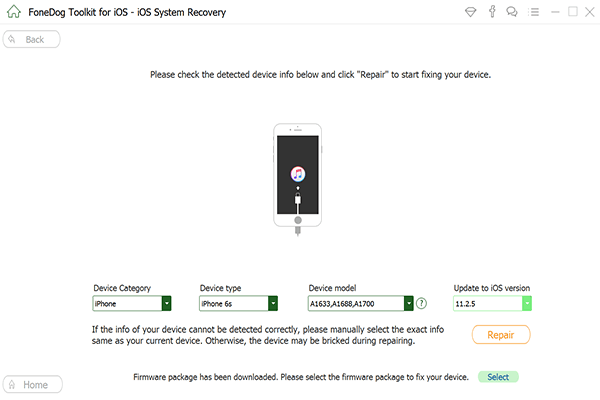 Step 4. Repair on Going
When you have submitted the required details, it will now begin the scanning, downloading, extracting, and repairing of the iPhone. It may take a while but of course, it is better to wait rather than be stuck on iPhone error 1671. When the repair is completed, you will see the progress on the notification screen. Your iPhone will restart and boot up normally. Otherwise, if it did not do any changes, you need to retry the entire process.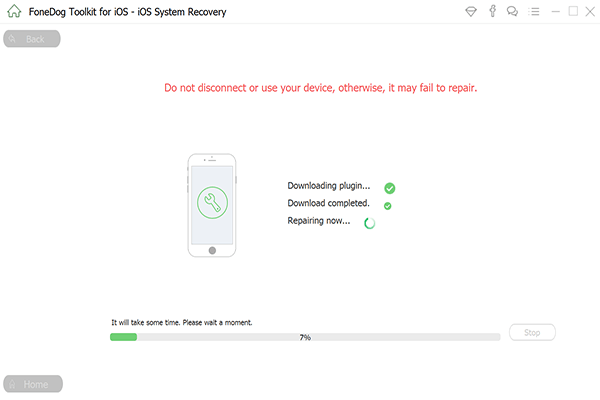 Part 4. Fix iPhone Error 1671 via "Hosts" File
Sometimes software security or malware protection programs can interfere with the connection of Tunes to Apple's servers. Though it rarely happens, you cannot really say that it will never happen to anyone. Perhaps this is why you are currently reading this post because you are one of the rare people who get this annoying iPhone error 1671. Before you can proceed to do any restoration via iTunes, you can turn off the anti-virus software for a certain period of time then re-enable it. If the restore still does not work, try to fix the iPhone error 1671 via the host file.
Disable your anti-virus on computer (Win or Mac)
Restart the iPhone or hold down the Sleep/Wake button for about 10 seconds
After the phone has rebooted, connect the iPhone to the computer with valid USB cable and launch iTunes. Try to update and see if it is now working.
If restoring device via iTunes:
Turn off anti-virus. (Refer to your Anti-virus settings)
On your computer, find the "hosts" file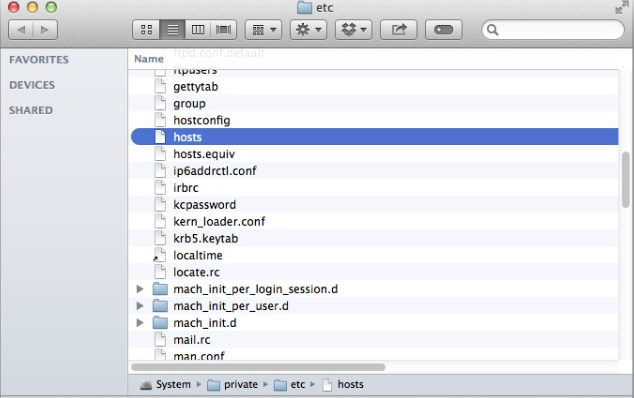 For Windows: Open Notepad>Click Open File>go to:WindowsSystem.32driversetc
For Mac: Go to your Finder and search "hosts" then drag to your desktop> in the Finders bar, choose to Go>Go to Folder>enter /private/etc/hosts.
Once the "hosts" file is found, drag the file to your desktop and launch the iTunes and try to restore the iPhone. Remember to put the "hosts" file back in its folder. You may also turn on the anti-virus once the problem has been resolved.
This is a little too technical but it fixes iPhone error 1671 very well.
Part 5. Enter DFU Mode to Fix iPhone Error 1671
You can also enter into DFU mode in order to resolve iPhone error 1671. A Device Firmware Upgrade will help rebuild the structure of the software currently running on your iPhone. It will act as a filter and main troubleshooter inside the operating system. It may be a little too complicated to do this process however, the result is satisfying especially fixing iPhone error 1671. To do this, follow the steps below:
Connect the iPhone to the computer and launch iTunes
Connect the iPhone to the computer and launch iTunes
On the iPhone, press and hold the Sleep/Wake + Home buttons altogether for about 10 seconds
Release the Sleep/Wake button while still holding Home button after the message "iTunes has detected an iPhone on Recovery Mode" pops up
Release the Home button. This will now leave the iPhone with a black screen. If you don't see a black screen or the above message, redo the process.
You can now restore your iPhone via iTunes and your device will slowly come back to life.
If you are not confident that you can do this solution, you can ask help from an expert to do this for you.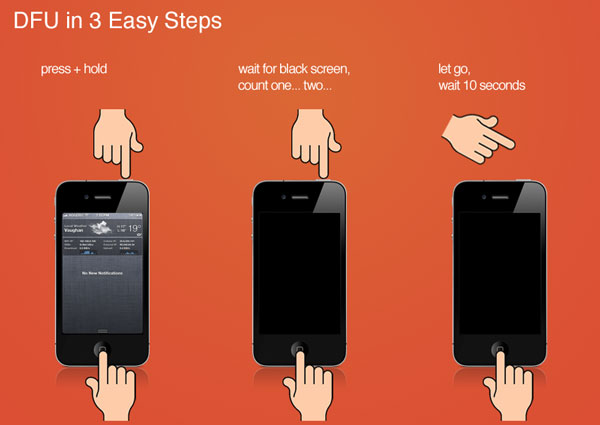 Part 6. Recommendation
With the above 5 best ways to fix iPhone error 1671, the most effective and safest way so far is to use FoneDog iOS System Recovery. It does not only fix iPhone error codes but it also protects your phone from any forms of data loss. This is why millions of iOS users worldwide trust only FoneDog iOS System Recovery. So whenever you are stuck with different iOS error codes upon upgrading or restoring, you can simply use FoneDog iOS System Recovery and your phone will return to its normal state.