Did you know you can now record iPhone screen in iOS 11 without any Jailbreak needed?
Part 1. How to Record iPhone Screen in iOS 11?Part 2. Compatible Devices and Best-hidden FeaturesPart 3. Recommendation to Record iPhone Screen in iOS 11
People Also ReadWhat to Do When Your iPhone Screen Locks Up?What's Snapchat Savers and How to Use it
Part 1. How to Record iPhone Screen in iOS 11?
The recording iPhone screen feature was not given attention nor announced during the WWDC 2017 event and it was only shockingly discovered through the iOS 11 beta 1 version. Guess what, you can now record iPhone screen in iOS 11 without the help of any third party apps or even jailbreaking. Gamers and other enthusiasts can now enjoy this feature for free.There were two types of screen recording options you can use on the iPhone: First is to jailbreak the iPhone and second is to install third party applications that needed to be downloaded and installed laboriously where some might need a desktop.Screen recording is now available as one of the customizable options in the iOS control center and can be done on iPhone 7 and 7 Plus, iPhone 6 and 6s Plus, and 5s devices.
To add screen recording to the control center, follow these steps:
Go to Settings
Open Control Center
Scroll and find Screen Recording
Tap the green plus sign (+) to add feature on Control Center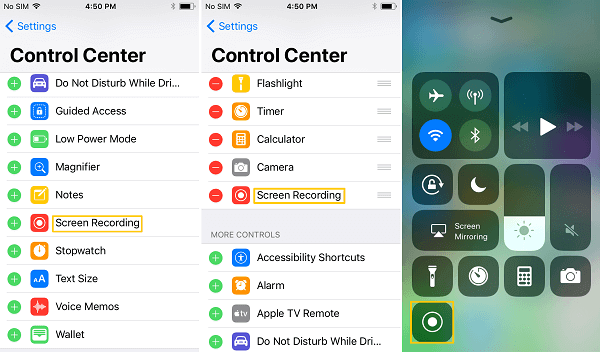 To start recording iPhone screen follow these:
On the Home screen, swipe up to access the control center
Tap the screen recording button.
The red button indicates that the recording is on.
If you would like to record with sound, long press the Screen Recording icon to reveal the microphone. Turn on the microphone when needed.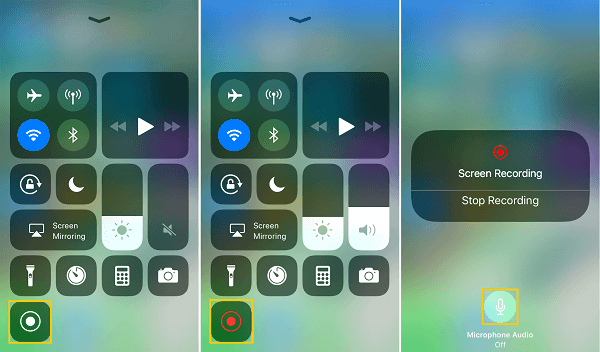 To stop screen recording:
The easiest way to stop the screen recording is to tap the blue recording indicator on top of the screen.
You can also go to Control Center and tap Screen recording to stop
Once you have stopped the recording, all screen caps are saved on the camera roll where you can edit and share with friends.
To edit screen recordings:
Open Photos app or and access Camera Roll
Choose the recording file you want to edit
Tap the edit icon
Navigate by using the black arrows to trim the screen recording
When finished editing, tap done and tap Save as new clip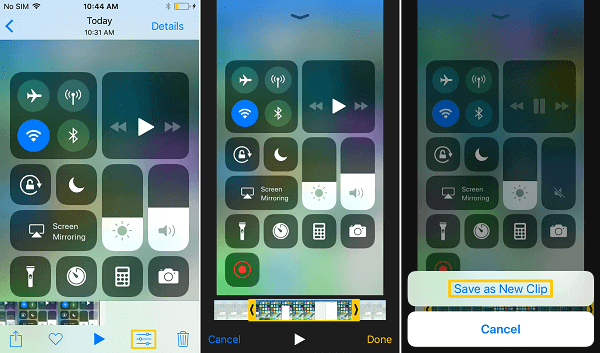 Part 2. Compatible Devices And Best-hidden Features
When you have already upgraded to an iOS 11 beta version, you are one of the lucky users to use and experience the new features. One of these is to record iPhone screen in iOS 11. There are also compatible devices that allow you to discover more about this new firmware:
iPhone 7 and 7 Plus, 6s and 6s Plus, 6 and 6 Plus, iPhone SE and 5s
iPad Pro 12.9-inch (1st and 2nd gen), Pro 10.5-inch, Pro 9.7-inch, Air 2, Air, iPad (2017)
iPad mini 4, mini 3, mini 2
iPod Touch 6th Gen
If your device is not listed above it means that you are not able to use the iPhone screen recorder or iOS 11 screen recording feature. There are other ways to still use this recording feature but that is to either jailbreak or to download third party programs and install them on your Mac or desktop. But if you do have the latest device such as iPhone 7and 7 Plus, go ahead and try by installing iOS 11 on your iPhone so you can discover more great features. To learn how to download iOS 11 check out the steps by visiting FoneDog iOS Toolkit website for a more detailed guide.
Here are some of the best-hidden features of iOS 11 that everyone is talking about:
Talk to, Siri – Now you can talk to Siri by typing commands! At long last, you can be more discreet with your searches by not just doing voice commands but typing instead.
Record iPhone Screen on iOS 11–Yup, this is one of the best-hidden features of iOS 11 that Apple kept silent with. Finally, you can record those games and show off to friends without having to jail break your iPhone.
Handwritten Emails- Why not? Typing now is too generic so why not switch back and add some more personalize notes in your emails by simply long-pressing in any open space while on a new message or reply then tap on insert drawing.
SOS – Apple has decided to make things a little easier especially when an emergency situation happens. You can just set your emergency contacts then you can just tap on the power button five (5) times and it will attempt a call to your emergency contact lists.
One-Handed Keyboard – The iOS 11 has become flexible too when it comes to typing. Its keyboard settings can now be switched to left or right depending on your choice for easier typing. To do this, hold down the emoji key and select from the menu.
Part 3. Recommendation to Record iPhone Screen in iOS 11
To be able to record iPhone screen in iOS 11 is something most iOS users are looking up to. So if you are now greatly convinced about this new iOS version, you can definitely sign up for Apple Beta Program and get the chance to be one of the participating users and developers to experience and provide feedback about this new firmware. You may also get help from third party programs like FoneDog iOS Toolkit.FoneDog iOS Toolkit is a complete one-stop iOS solution that aims to help users get the most from their mobile devices and tablets. FoneDog iOS Toolkit also provides recovery for lost or deleted contents data like contacts, call history, messages, photos, videos. It has a preview and selectively restores option for better recovery results. Apart from data recovery, FoneDog iOS Toolkit also offers system recovery for cases like stuck on Apple logo, Black Screen, Red Screen and the majority of the system issues. Be confident in unlocking your iPhone's full potential by keeping FoneDog iOS Toolkit ready at any time. So whether you want to record iPhone screen on iOS 11 or experience other features, we strongly recommend practicing precautions and extra care.